If "American Beauty" is a deconstruction of the American dream, then "The Rum Diary" is its hard-partying younger brother. To describe the movie in any simpler terms would be impossible. In the words of female lead Amber Heard, "There are comedic elements, but it's very difficult to label the movie … which is why I like it." It's an observation that most audience members will likely agree with as they walk out of the theater.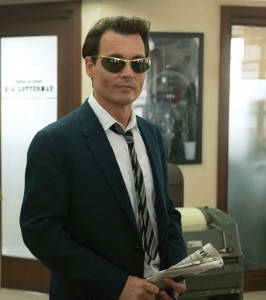 "The Rum Diary," starring Johnny Depp and Aaron Eckhart was released on Oct. 28 by FilmDistrict. The film was based on the novel "The Rum Diary" by Hunter S. Thompson.
"The Rum Diary" is based on the partially autobiographical novel of the same name by author Hunter S. Thompson ("Fear and Loathing in Las Vegas"). It tells the story of Paul Kemp (played expertly by Johnny Depp), a journalist who heads to Puerto Rico in the 1950s to write for the fledging San Juan Star. As the title suggests, he finds himself doing less writing and more drinking while down on the island. Kemp is joined on his misadventures by photographer and longtime San Juan Star employee Bob Salas (Michael Rispoli), and "crime and religious correspondent" Moberg (Giovanni Ribisi).  Ribisi's drunken, derelict character leads to a hilarious and inspired performance that steals nearly every scene.
The film bounces back and forth between comedy, political commentary and drama almost seamlessly. Amidst the road trip-esque adventures encountered by the three leads, Kemp is unwillingly drawn into a seedy business deal with Sanderson (Aaron Eckhart) and becomes romantically involved with Sanderson's young, stunning fiancee, Chenault (Amber Heard).
But don't be fooled by her looks. Heard is an actress with talent who refuses to be pigeonholed in the system. "I'm interested in building three-dimensional characters, and I'm interested in telling real stories. … This is why I haven't done a romantic comedy," she said with a laugh during our interview after the screening. But she's been in almost every other type of movie under the sun. From comedies such as "Zombieland" to horror films such as "The Ward" to the impossible-to-categorize films she's been in such as "The Rum Diary," Heard tries to keep herself on her toes as she disappears into completely different roles on every set.
As "The Rum Diary" is based on Thompson's early career, Chenault was loosely based on Thompson's longtime wife, Sandy Thompson. Depp was a personal friend of Thompson's in his lifetime and was able to offer Heard advice on the character, though Heard took inspiration from multiple sources. "She looks like the archetype of this 1950s trophy fiancee, but she's not," Heard explained. "She's flawed and broken and has a journey to go on." Heard herself also had somewhat of a rebellious youth, as she dropped out of school at 17 to begin a modeling career, which then transformed into her recent film career. Her experience shows as she takes what likely would have been a two-dimensional character and turns her into one of the more complex characters in the film.
Though the performances are all-around top-notch, the film does contend with one serious problem: its tone. With each separate mood the movie goes for, a different plot line follows. Much of the comedy comes from Kemp's various exploits with Salas and Moberg, the drama comes from the Sanderson-Chenault story, and the political commentary appears in the form of Kemp's occasional narration, where he voices his distaste for America's treatment and ignorance of the Puerto Ricans. The movie is a wild and fun ride to be sure, but the plots don't always mash neatly with each other. As the movie nears its end, it becomes obvious that there's no real clear way to tie up every storyline in a neat bow. "The Rum Diary" certainly does its best to try, but when Kemp delivers a monologue on the power of press near the end of the film, it doesn't pack quite the punch that was likely intended.
In all, "The Rum Diary" is a wild, if not totally consistent, ride. Heard, a car enthusiast who has previously guest-starred on an episode of "Top Gear," said that driving in the authentic 1958 Chevy Corvette used in the film with Johnny Depp "was one of [those] moments when I had to step back and appreciate the absurdity and incredible nature of my job. I'm driving up the coast on a beautiful sunny day driving next to Johnny Depp … and that car was as beautiful as Johnny."
Once you strip away the tonal discrepancies that the movie faces, that same feeling of wonder and whimsy is sure to linger with viewers long after the movie is over.
FilmDistrict's "The Rum Diary" opened in theaters nationwide Oct. 28.