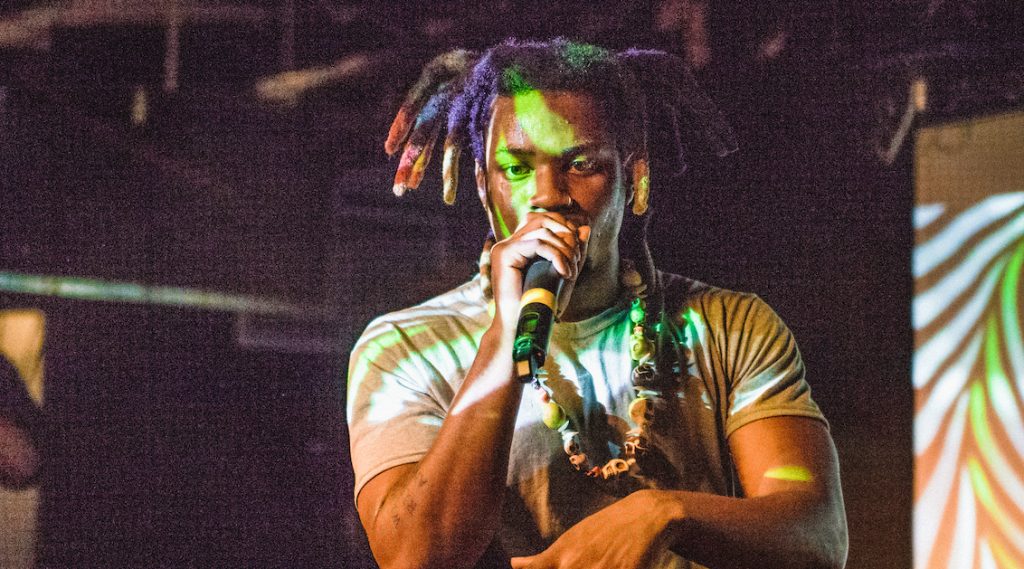 Florida rapper Denzel Curry appeared at The Fillmore in Philadelphia, Pa., on Oct. 7 for his Melt My Eyez USA Tour. The name of the tour is in reference to Curry's newest album, "Melt My Eyez See Your Future," which was released on March 25, 2022.
The Philadelphia show featured four supporting acts: Deniro Farrar, PlayThatBoiZay, redveil, and AG Club. The opening sets combined for a rough total of two hours before Curry arrived on stage just past 10:30 p.m. Throughout the night, the openers joined each other's sets on multiple occasions to perform songs that they had collaborated on previously.
The fan favorite of the openers appeared to be redveil, who's youthful charisma was easy for audiences to latch on to. The Triangle was able to briefly speak with him while he was meeting fans at his merch table throughout the night. When asked what song we should look forward to seeing during Curry's performance, he simply responded "Ultimate."
Curry led off his set with the first two tracks off of his "Melt My Eyez" album, "Melt Session #1" and "Walkin," the latter currently being his most popular song on Spotify. The stage had minimal props; only a DJ table and projected visuals appeared while most of the character was brought by Curry himself. His stage presence was confident and comedic, from scolding someone who threw their phone on stage to placing someone's "tittyholders" on his hair.
The set list continued to promote tracks from the new album like "Worst Come to Worst," "The Last," "Mental," "Troubles" and "Ain't No Way." Following these he delved into his older catalog with songs like "BLACK BALLOONS," "SPEEDBOAT," "SUMO" and my personal favorite "WISH." Curry also claimed the song "This Life" to be his favorite track off of his album "Imperial," and "X-Wing" to be his favorite track off of "Melt My Eyez" (which I would have to agree with.)
Before beginning the track "Ultimate," Curry spent a few minutes attempting to force the entire GA floor to crouch down. Once the iconic chorus dropped, it was aware why redveil had bluntly revealed it to be his favorite to see performed. The crowd jumped up to see AG Club, redveil, Deniro Farrar and others on stage alongside Curry hyping up the track.
He went on to play his hits "CLOUT COBAIN" and "RICKY" and eventually ended the show with the closing track of his newest album titled "The Ills." But, of course, an encore was demanded and his early hit "ULT" was performed. He then promptly ended the show by throwing "balls of energy" at the crowd with the help of everyone's cheers. It was a fitting ending to a wild, animated show.
Melt Session #1
Walkin
Worst Come to Worst
The Last
Mental
Troubles
Ain't No Way
This Life
Dog Food (IDK feature)
BLACK BALLOONS
WISH
Unknown song (Raider Klan graphics in the back, likely old)
RICKY
SUMO
Ultimate
SPEEDBOAT
X-Wing
CLOUT COBAIN
The Ills
ENCORE
ULT