Critically acclaimed indie band Death Cab for Cutie came to the Trocadero Theatre Saturday, June 4 on a tour of smaller venues in support of their new album "Codes and Keys." Because of the significant decrease in size from Death Cab's usual venues (they're coming back to Philadelphia in August to play The Mann Center), the concert sold out almost instantly. As early as two hours before the show, fans were seen standing in line outside; anticipation for the band's return to The Troc was enormous.
Before Death Cab for Cutie took the stage, fellow Washington state natives The Lonely Forest played a largely forgettable, if not mildly enjoyable set. The band's sound draws heavily from Death Cab's, but lacks much of their originality and variety. They sound like something that I would have heard on MTV2 about eight years ago. In fact, they seemed something like what Owl City is to Ben Gibbard's (lead singer of Death Cab for Cutie) side project, The Postal Service – they took many of the overarching ideas and the general sound from the original, with little regard for reproducing something remotely as good. To be fair, The Lonely Forest wasn't absolutely terrible – something I can't necessarily say for Owl City – and it was rather enjoyable to watch them careen about the stage with reckless abandon. Ah, youth.
Death Cab for Cutie began their set soon after, and were greeted by deafening applause from the audience. They quickly launched into fan favorite "I Will Possess Your Heart," doing a damned good job reproducing the reverb-soaked extended introduction with minimal instrumentation and without the help of studio wizardry. Immediately, the band's sound was extremely tight, and Gibbard's distinctive voice filled the entire room.
It soon became clear that the band had a great command of their music. All four members effortlessly blew through demanding instrumental parts with what I can only call swagger. It's a bit strange to see a band tear through performances of songs with quite emotional, delicate messages, but I suppose marrying Zooey Deschanel would put pep in just about anyone's step. All three musicians, not bound by a drum set, were quite lively, moving about and generally having a great deal of fun. It's quite refreshing to see such veteran musicians still able to jam onstage (perhaps credit can be partially given to the change in scenery provided by The Trocadero).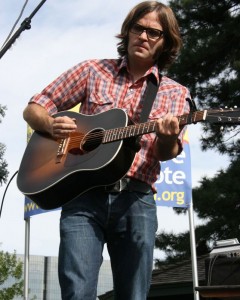 The band also made sure to play just about every song fans wanted to hear. The nearly two-hour-long set was packed with almost every hit the band has had to this point, as well as excellent album cuts and rarities. Songs were featured from everything from their first cassette tape, "You Can Play These Songs with Chords," to their latest album, and they ensured to pick a healthy selection of songs from every stage in their career. While there wasn't a good deal of crowd interaction beyond pleasantries, it's very difficult to complain given the set they played.
Death Cab's return to the Trocadero Theatre, their first visit since touring on 2003's "Transatlanticism," is best described as triumphant. Their decision to go on a tour of smaller clubs is a treat to fans across the country, giving them the opportunity for an intimate encounter with Death Cab for Cutie, which was not possible for many years. The band certainly delivered in their performance, bringing incredible energy and enthusiasm to the set, and making it one show I will not soon forget.