I wasn't quite sure what to expect going into the film "Dark Shadows," the latest collaboration between renowned actor Johnny Depp and famously eccentric director Tim Burton.
The film, based on the 1960s soap opera of the same title, begins in 1760 with the story of Barnabas Collins (Depp). A wealthy entrepreneur who is turned into a vampire after breaking the heart of the vindictive witch, Angelique (Eva Green), Barnabas is locked away in a coffin. He is released 200 years later and returns to the family estate, only to find his dysfunctional descendants, headed by matriarch Elizabeth (Michelle Pfeiffer), living in the now decrepit manor.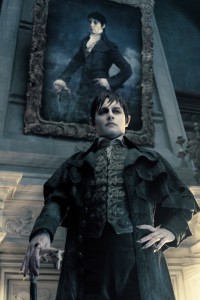 Barnabas slowly assimilates to the modern world with the family's help, particularly that of rebellious teenager Carolyn (Chloe Grace Moretz) and their live-in psychiatrist, Dr. Hoffman (Helena Bonham Carter). Barnabas vows to return the family fishing business to its former glory, once again forced to battle Angelique, who has renewed her quest for vengeance after discovering that Barnabas is in love with the family governess (Bella Heathcote).
As always, Burton creates an impressive, richly retailed world, dripping with vampires and dark magic. This wonderful background, however, frames an unfortunately fragmented and slow-moving storyline. The transition from 1960s soap opera to 2012 feature film seems to have been a little rough, and I found the juxtaposition of Barnabas' 18th-century demeanor against the 70s backdrop to be a bit much.
Though it was marketed as a gothic comedy, I had a hard time placing the film in a specific genre. Floating somewhere between thriller, comedy and drama, I desperately wanted it to be funny, what with the fabulous Johnny Depp. Unfortunately, much of the comic relief fell flat, a huge missed opportunity for the film.
What is lacking in story is made up for with the cast. Depp, marvelous as always, anchors the film and is magnificently supported by Michelle Pfeiffer and Eva Green. Helena Bonham Carter definitely steals the spotlight in her appearances as well.
Though I am a huge Chloe Grace Moretz fan, I was a little disappointed with her overdone performance and bizarre appearance as a werewolf late in the film. Bella Heathcote gives a nice but rather bland performance as governess Victoria Winters. I found Heathcote to be a little green to be cast as Barnabas' love interest, opposite Depp. Other favorites include Gulliver McGrath as the seriously adorable David Collins and Alice Cooper as himself.
I'm not sure if this film is worth the trip, though fans of the original series and die-hard Depp fans will probably get a kick out of the high production values. Though this film wasn't my favorite, I'll always be interested to see what Depp and Burton have up their sleeves.