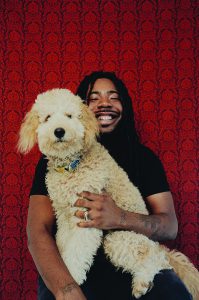 Virginia rapper D.R.A.M. brought his "Big Baby D.R.A.M." tour to the 450-capacity Foundry, with openers River Tiber and Ari Lennox Jan. 19. Due to some minor issues at the ticketing office, I was unable to see River Tiber's set, but I can imagine it was terrific. The Canadian based R&B singer released his debut album "Indigo" last year. Not only is he a talented vocalist, but he produces his own music and is a multi-instrumentalist who has been sampled by Drake. He has also worked with heavy hitters such as Pusha T and Kaytranada.
I was lucky enough to see Ari Lennox. The newest signee to J.Cole's label Dreamville Records, Lennox is another R&B singer hailing from Washington D.C. Donning a green jumpsuit, Lennox captivated the crowd with energetic renditions of her hits "Yuengling," "Night Drive" and "Backseat." Although her set was relatively short, her bouncy and silky vocals had the audience wanting more.
A short time later D.R.A.M.'s band took the stage, and his DJ started playing some of the biggest hip-hop tracks from today and from Virginia, where D.R.A.M. is originally from. Soon, the "Big Baby" himself hopped on stage, sporting a grey windbreaker and a smile that could be seen from space. He opened up his set with a couple lesser known tracks from his earlier EP "#1Epic" as well as his debut album "Big Baby D.R.A.M.," but mixed in a few bigger hits such as "WiFi" and "Cute."
The 28-year-old rapper received national attention when Beyonce posted a video of herself dancing to his song "Cha Cha" on her Instagram. Since then, D.R.A.M.'s rise has been meteoric. He's been featured on songs with E-40, Chance the Rapper and even Neil Young, and has released two well received projects in the last year. Fans are attracted to his optimistic attitude and unique, catchy music.
Between songs, D.R.A.M. reminded the crowd how much we mattered and that we were all beautiful, a nice respite from the difficult political climate of late. After stepping off stage with his bodyguard for an unknown reason, D.R.A.M. came back out a few minutes later with a revitalized second half of the show. He moved through a variety of hits, such as the smooth, SZA-assisted "Caretaker" and the bombastic "Cha Cha."
By that point, the entire crowd was singing along to all the words, gyrating as a massive wave of radiant energy. Things got even rowdier during "Cash Machine," where D.R.A.M. brought out a literal money gun and shot fake cash into the crowd. He then thanked the crowd and hopped off stage.
There was a noticeable song missing from his setlist: "Broccoli." The Lil Yachty-assisted track is by far his most popular song, and was without a doubt the biggest viral hit of 2016. Luckily, D.R.A.M. came back out for an encore and began an acapella version of the song. Before long, his band started playing the trademark piano riff and all hell broke loose. D.R.A.M. jumped into the crowd, followed closely by his bodyguard, and ended the song among his fans before leaving the venue for good.