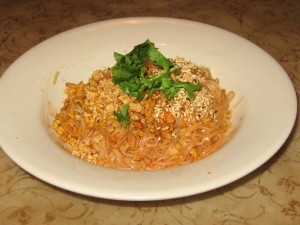 Rangoon Burmese Restaurant is an unexpected find. But once you find it, plan on visiting it more than once. The menu is enormous, and if the quantity isn't enough of a draw, the quality of food seals the deal. The fact that it is a Burmese restaurant helps! I, a self-proclaimed foodie, had never tasted  or even thought about Burmese cuisine. I've enjoyed my fair share of Asian-inspired dishes but not explicitly Burmese. Truth be told, that most likely would have continued had it not been for one of my co-workers.
The details for the evening: A friend and I wanted to go out to dinner. That was about it. I love the opportunity to search around for prospective eateries, but work was hectic and left me little time for what is normally an extensive, exciting research session. So instead of Yelp, I relied on face-to-face reviews from colleagues at my co-op and eventually settled on Rangoon.
It was a stellar suggestion. The restaurant is stationed on a corner of Chinatown but away from the hubbub that may come to mind (particularly around the iconic arch). At 112 N. 9th St., it is an easy walk from the 8th Street subway station. Granted, it is worth a tougher trip, but the convenient location is just another appealing feature of Rangoon. It has a fairly large dining area with understated decor, and the lack of customers at the time of our arrival fueled my initial wariness of the place. But when it comes to restaurants, I have learned to avoid judgment solely based on appearance. When it comes down to it (assuming the place is at least sanitary), the integrity of a restaurant depends on its food. And when it comes to Rangoon's food, there is no questioning the establishment's integrity. It is spot-on.
As I mentioned earlier, the menu is quite overwhelming in its number of choices; that's where Yelp comes in handy. Practically every review insisted on ordering the Thousand-Layer Bread and Potato Curry for an appetizer, so we did. Majority rules. Literally, they guided us in the right direction, or as Guy Fieri would say, to "Flavortown." Although the bread did not have the thickness of 1,000 layers — I could barely count two layers — the thinness served as a delicate base to the heavy, powerfully flavorful potatoes. What's more is that it was drenched in butter, which is never a bad thing. While the Yelp crowd helped us choose a starter, opinions greatly varied regarding the entrees.
Taking a look at the menu, this is not surprising. There are dishes that highlight the protein, whether it be chicken, pork, beef or a variety of seafood. There are dishes that put unusual flavor-packed spins on rice and others that feature noodles with or without meat. There are also a multitude of vegetarian dishes. After much deliberation, we made our final decisions. My cohort ordered the Northern Burmese Noodles, a spicy stir-fry of rice noodles, shrimp, chicken, scallions and bean sprouts. We deemed it to be a successful Asian spin on the American coastal surf 'n' turf meal, the seasonings giving a surprising but appreciated punch to balance the savory sauce. While I preferred my dish, this other plate was so delicious that I kept stealing bites. I personally got the Shan Rice Noodles. It reminded me of pad thai, but instead of an emphasis on peanuts — which I think is why I love this Thai staple so much — it had the distinct flavor of sesame seeds. While I must say I'm a sucker for the peanut-buttery goodness of pad thai, I enjoyed the pairing of this taste with sesame.
For dessert we reverted back to customer reviews and ordered the highly praised faluda. A disclaimer: When I first read the description (and still, even when I read it again), it did not sound appealing. But hear me out. It is a tall glass of rose syrup, milk, ice cream, pudding, raisins, tapioca and gelatin. Like I said, it seems a little funky, but one spoonful made me a believer. It can be likened to a milkshake, just with a few surprises from the mix of textures.
All in all, I agree with the other self-proclaimed foodies that led me through this meal (on the Internet, that is). This is one of few restaurants I've written about that is compatible with the budget of a college student. In other words, you don't have to go with your parents to try it. Then, expenses aside, the food is different from many other places in the city, which is hard to come by due to the diversity of restaurants in Philadelphia. In this case, different doesn't mean expensive, weird or avant-garde. It was just very tasty.