The concept of food trucks is becoming more and more popular as we see new trucks appearing on campus every week. However, the concept of a grocery store food truck seems almost unfathomable. Regardless, it has become a reality as the Fresh Food Hub made its first debut April 25. Beginning as a pushcart market that only appeared once a week, Preston's Paradise has expanded into the Fresh Food Hub five years later as a mobile grocery store (they still sell fresh produce on wheels). However, the only difference is that there is a bigger selection and now more availability to the community.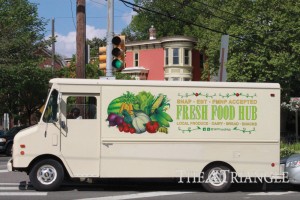 Fresh Food Hub transformed from push-cart to food truck and debut in West Philadelphia April 25. The truck serves fresh and affordable fruits, vegetables and bread to students and residents alike.
Preston's Paradise joined efforts with Greensgrow Philadelphia Project to make the Fresh Food Hub not only a possibility but also a reality. As a nonprofit mobile grocery store, the Fresh Food Hub serves West Philadelphia, conveniently located on Lancaster Avenue. The goal of Fresh Food Hub isn't to raise a great profit or become famous and end up on national TV but rather to serve the underserved communities in West Philadelphia. Oftentimes many students are so enamored by the environment immediately surrounding them that they forget that there is life outside the boundaries of the University of Pennsylvania and the Greek life on Powelton. Even though we may forget amid our comforts, Fresh Food Hub keeps in mind the people who are still struggling in the West Philadelphia area.
Fresh Food Hub serves low-income customers with basic fruits and vegetables, including more seasonal items, especially during the summer. Wanting to be known as the "healthy cornerstone," Fresh Food Hub uses affordable prices with high-quality produce to promote healthy eating. An array of local greens, potatoes and strawberries, among other fresh foods, is available to support eating more nutritious foods picked up easily on the go, as opposed to buying quick, processed dry foods in the supermarket. All the foods there are purchased from local farmers, and Fresh Food Hub is still on the lookout for entrepreneurs and small vendors to create more jobs and help fuel the local economy within West Philadelphia. The food is not only healthy but also affordable. There is an assortment of fresh foods ranging from fresh greens for $1 to freshly baked bread for $3. Fresh Food Hub is a cheap, nutritious alternative to the fast and unhealthy foods students are accustomed to buying.
However, having just a nonprofit grocery store on wheels simply isn't enough for Food Hub. Next, Fresh Food Hub is planning on having educational workshops right in front of the truck — activities ranging from blood pressure screenings to yoga, cooking and gardening. The ideas for what is to come next are endless. Most importantly,  having a completely community-owned grocery store is the ultimate goal in mind. Food Hub aims to hire people in the local community and buy fresh produce from local farms and fields to sell to the community.
As a university right next to West Philadelphia, Drexel and its community should become more involved in what happens right next to us and be encouraged by the goal of Fresh Food Hub. This means being concerned for our health and the environment and being aware of the community we live in and how we can affect it.
Fresh Food Hub can be found at 37th Street and Lancaster Avenue on Wednesdays, Thursdays and Fridays from noon to 6 p.m. and Saturdays from noon to 3 p.m.