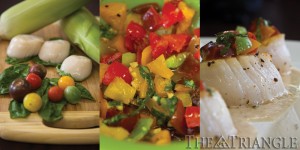 The flavors of summer are particularly exciting for anyone who enjoys biting into that first juicy peach of the season or a perfectly crunchy ear of corn. Taking a trip to Reading Terminal Market could excite anyone's culinary imagination. I'd like to delve into a delicious dish including fresh U10 sea scallops, colorful heirloom tomatoes and silky corn puree.
Sea Scallops with Corn Purée and Heirloom Tomato Salad
Ingredients
– 2 ears of sweet corn
– 1-1/2 cups chicken stock
– Crème fraiche
– Baby heirloom tomatoes
– 1 clove of garlic
– 4 leaves basil
– U10 sallops
– 2 tablespoons unsalted butter
– 1-1/2 tablespoons olive oil
– Kosher salt
– Black pepper
Directions
Cut off the ends of the ears of corn in order to create a flat base. Run your knife along the corn to remove the kernels. Place one tablespoon of butter in a medium sauté pan over medium heat. When the butter is heated, place the corn in the pan. Toss to coat and sprinkle with salt and pepper. Let cook for five minutes. Place the chicken stock in the pan with the corn. Let the stock simmer for seven minutes. Place the corn/stock mixture into a blender. Purée the mixture until smooth. Add one tablespoon of crème fraiche and pulse to combine.
Cut the tomatoes into eighths, removing the seeds. Finely chiffonade four leaves of basil. Mince the clove of garlic and combine it with the tomatoes, basil and tablespoon of olive oil.
Pat the scallops dry. Sprinkle with salt and pepper. Get a small sauté pan screaming hot and place one tablespoon of butter on the pan along with the remaining 1/2 tablespoon of olive oil. Carefully place each of the scallops onto the pan. This will take exactly 90 seconds to complete the cooking. Cook 60 seconds on the first side, flip and continue to cook on the other side for 30 seconds. You should have a perfectly seared medium rare scallop.
Plating
Place the corn purée down on the plate. Place three scallops onto the plate. Top each scallop with the heirloom tomato salad.