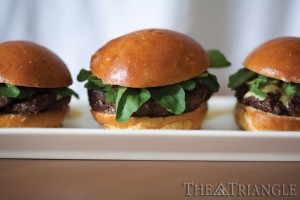 The hamburger: the go-to American food staple that we associate with an entire season of the year. From backyard barbecues to trips to our local Bobby's Burger Palace, the burger is an unavoidable favorite in the USA. The classic burger consists of ground beef in patty form, bread, cheese and other condiments.
I thought I would take the ordinary burger and make it fabulous: A hanger steak slider with garlic bleu cheese sauce and watercress. The hanger steak will be cut thinly and seasoned to perfection. It will then be cooked at a high temperature on a grill pan to give it a caramelized sear. The sauce will be creamy, tangy and have a nice kick of garlic; a perfect accompaniment for juicy hanger steak. Next comes some peppery watercress, which adds a nice crunchy texture. Last but not least, it will all be placed on a delectably sweet brioche slider bun from Di Bruno Bros.
Ingredients:
– 4 ounces bleu cheese
– 1 cup heavy cream
– 1 clove garlic, minced
– 1 tablespoon olive oil
– Salt and pepper
– Cut of hanger steak, (1/2 steak per person)
– Watercress
– Brioche slider buns (3 per person)
Recipe:
Using a small sauce pan over medium heat, place one tablespoon of olive oil in the pan, along with the minced garlic. Let that cook for one minute – no more, no less. You don't want the garlic to brown. Next, place the cup of heavy cream into the pan and bring it to a simmer for 25 minutes.
Meanwhile, take your hanger steak and pat it dry with a paper towel. Rub the steak with some olive oil, then  season the steak liberally with salt and pepper. Thinly slice the steak.
Next, using a grill pan (not necessary, but recommended), place it over high heat for three minutes. You want the pan to be screaming hot so that you have a good shot at caramelizing the steak. Place olive oil on the pan and immediately throw the steak on the pan. Leave it for a few minutes and then flip it. It should cook through within about six minutes. Bring the steak off of the heat and allow it to rest for five minutes.
The sauce should have been simmering for the appropriate amount of time at this point. Turn off the heat and crumble your bleu cheese into the sauce. Stir until it has melted into the sauce, and then season it with salt and pepper.
Assembly:
Place your rested steak onto the buns, drizzle with the garlic bleu cheese sauce, place some watercress and then finally place the top bun.