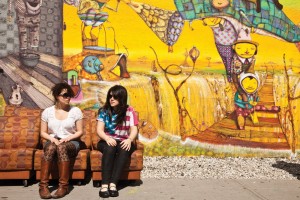 On Jan. 22 Comedy Central premiered a new television show, "Broad City." Based on their web series of the same name, the creators-writers-stars of "Broad City," Abbi Jacobson and Ilana Glazer, have been working the comedy circuit for a number of years both together and apart, and now have finally made it to the small screen. The series follows the two friends through their post-college trials and tribulations in Brooklyn, N.Y. As Jacobson and Glazer put it, the show follows them through their "prolonged adolescence." Instantly relatable.
Outside of television, Jacobson and Glazer have been involved in the New York City comedy circuit for eight years, frequently meeting at Upright Citizens Brigade, an improvisational theatre and sketch comedy training center. Other Upright Citizens Brigade alumni include: Amy Poehler, Matt Besser, the late Temple University-educated Rick Roman, and Neil Flynn of "Scrubs."  Jacobson and Glazer's years together are evident; Jacobson and Glazer have great chemistry and play off each other very well, which makes for a captivating viewing experience.
The show, which is based on their lives and the lives of their friends, shares similar themes with other television shows that are currently making waves, although Jacobson and Glazer manage to put their own unique stamp on "Broad City." Playing comic versions of themselves, the crude-at-times wayward slackers deal with lack of ambition, talent and self-respect — typical adult problems — in a way that feels true to them.
So far, the series has been noted for its feminist slant. Jacobson and Glazer maintain that they have no agenda, but Jacobson said it is "an awesome word to describe the show." Despite their declared neutrality, Glazer commented that "the world is super ready for increasingly equal representation of everyone," and that they are not afraid to put themselves out there. While the show has been described numerous times as being "raunchy," Jacobson and Glazer see their show as a heightened exaggeration of the realism of their friendships and think their product is "sincere."
With Amy Poehler as executive producer, Jacobson and Glazer's vision shines. Though Poehler is "involved all the way," and understands the "big picture view of the show and the brand," Poehler and Comedy Central allow Jacobson and Glazer to maintain creative control over their baby.  They noted that Comedy Central has been very helpful with development of the script and storyline and has a "harmonious team." Getting inspiration from their friendship and their improvisational team, Jacobson and Glazer have come a long way since the humble beginnings of "Broad City," which first appeared on YouTube. Their web series, in which each episode was like a day in the life, was like a very scaled-down version of the television series. The duo's social media presence has arguably been one of the major foundations of their success. In addition to their television series being born on YouTube, Jacobson and Glazer have an active online presence on the social networking and microblogging sites Twitter and Tumblr, and numerous articles and other buzz surrounds them on the Internet.
For anyone interested in screenwriting or behind-the-scenes action, Jacobson and Glazer explained that they collect their story and plot ideas in a running spreadsheet — how 21st century. Though they say their show is "very scripted," they explained that they shoot three scripted takes and then do a "fun run" where improvisation is encouraged. Because the magic and beauty of improvisation is that one never knows what will happen, the scene they pick is ultimately a judgment call. On the writing end, when asked about how they deal with difficult themes such as racism and sexism, Jacobson and Glazer revealed that they feel as though they are having an "honest conversation," and that their outlook is to use writing and comedy to try to understand their world.
Regardless of the show's propensity for raunchiness and self-indulgence, the show is funny, creative, smart, and the characters seem to have the possibility for growth by learning from their experiences. Jacobson and Glazer continue to find their footing on Comedy Central and garner success through their strong roster of guest stars (so far including Fred Armisen, Rachel Dratch,  Janeane Garofalo and Amy Sedaris). Depending on your personal preferences for wayward comedy, "Broad City" should not be missed.
"Broad City" airs on Comedy Central on Wednesday evenings at 10:30 p.m.