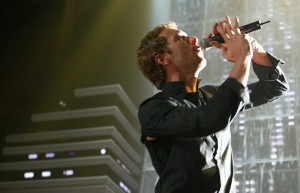 On Oct. 24, Coldplay released their fifth studio album, "Mylo Xyloto." The album includes the lead single, "Paradise," as well as "Princess of China" featuring Rihanna.
There used to be a time when people could search their iPods for this little British band called Coldplay, hit shuffle, and enjoy a quiet, contemplative musical medley while they stared out the window at violet hills and white shadows.
The subtle gravel of Chris Martin's voice and the collective imagery of the band created an emotional musical experience that spoke to millions of fans around the world. Throughout their first four albums, Martin and his crew gained overwhelming adoration (as well as some notoriety) for this formula that relied on simple instrumentals and thought-provoking couplets.
Assuming you have a fully updated Coldplay library on your iPod, trying the 'shuffle method' now might not be as successful. You may land on a song like "Trouble" from the inspired "Parachutes" album and be serenaded by the basic piano arrangement and the peaks and valleys of Martin's voice. Once the song fades, you'd likely be in a meditative, pensive state, swooned by one of Coldplay's most underrated hits.
Abruptly, you'd hear the synthesizer blips and pops of "Princess of China" from Coldplay's most recent album, "Mylo Xyloto." Part of you would be hooked by the suave, runway-ready baseline and the guitar riffs. You'd recognize Chris Martin's chanting, but then suddenly you'd hear what sounded like Rihanna belting her two cents. And you'd be right.
This very mainstream collaboration is not the only surprise on "Mylo," Coldplay's fifth album, released Oct. 24. Although the record retains the esoteric storytelling and brilliant vocals of former Coldplay endeavors, it's packaged brightly and grandiosely.
The album, as described by Chris Martin, is essentially a love chronicle between Mylo and Xyloto, two lovers in a bleak and dreary world who meet through a gang of "Lost Boys" and fall for each other.
Commendably, the album flows and grows like a story, each track building on the previous. The title track, a 30-second preamble, kicks right into "Hurts Like Heaven," possibly the album's most addictive track.
Convention be damned, "Heaven" is an ambient rock rebel and a strong statement for a band that's made its mark by creating alternative, melancholy-pop soundtracks. This uncharacteristically optimistic sentiment is repeated throughout "Mylo" and soars on the fourth track, titled "Charlie Brown."
The song is spacious and overwhelmingly fun — everything you'd expect from a track named after a children's cartoon. "When they smashed my heart into smithereens,
be a bright red rose come bursting the concrete. Be the cartoon heart," Martin alludes.
An active melody and extravagant lyrics make "Charlie Brown" a soul-soothing anthem. Just as the song fades away into faint hums, a short 'Finding Nemo'-esque piano melody caps off the track. Don't bother fighting it. This one will leave you teeming with joy.
Elsewhere in the album, Martin and crew explore the thick, unnavigated forests of "Paradise," equipped with synths, violins and an addictive chant. Remnants of "Viva La Vida Or Death and all His Friends" can be heard on this song, such as the genre-mixing styling of "Yes" or the sing-along chorus of "Viva La Vida." Yet the track represents Coldplay's new frontier and is likely the most compelling example of the beauty of blending musical styles.
"Mylo Xyloto" achieves its greatest successes when Coldplay embraces their new frontier and unabashedly flaunts their excess. "Every Teardrop is a Waterfall" is an admittedly fickle example of a hit that succeeds by capitalizing on trite lyrics, a catchy drum baseline and an undeniably blissful chorus.
It seems that Coldplay wasn't ready to commit fully to their bold new sound, however, instead opting to include some slower tracks, such as "Up in Flames" and "Up With The Birds" at the end of the album. Unfortunately, they end up as lame attempts to revive Coldplay's former style and are soon forgotten. "Don't Let It Break Your Heart," is the one exception, soaring and searing, tying elements from old and new.
Every epic has chapters, and Coldplay's career has definitely had many. "Mylo Xyloto," however  rogue from its predecessors, is certainly a significant chapter in this band's impressive musical history.
Though Coldplay is definitely not as emotionally indulgent as they once were, they're still as compelling as ever. Chris and his crew have decided to ditch the somber in favor of the grandiose, turning teardrops into waterfalls the world over.