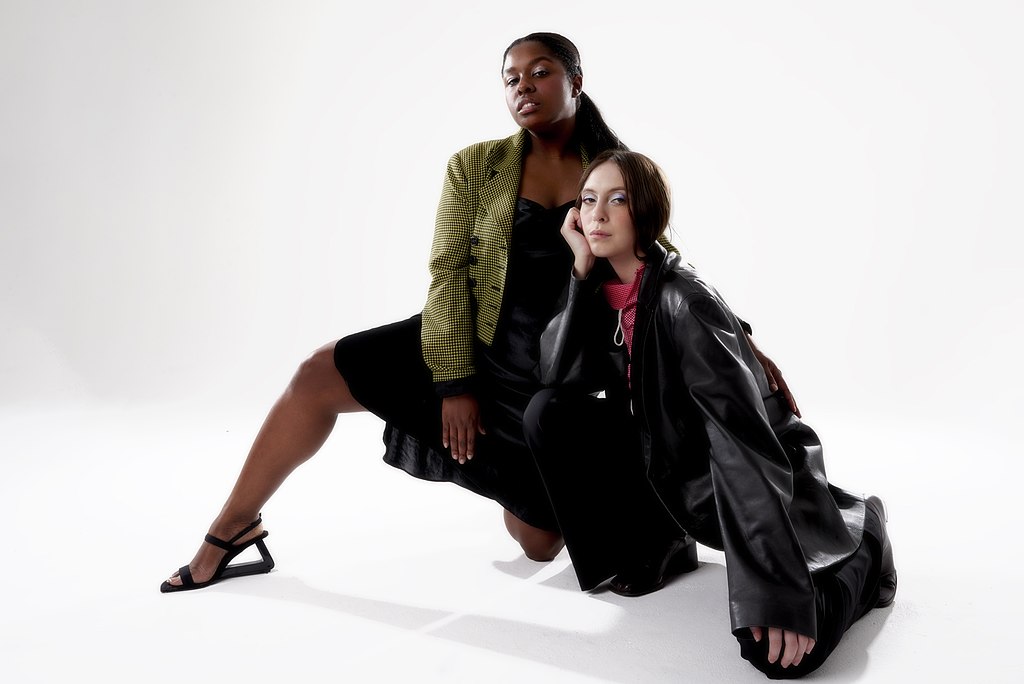 Atlanta-based bedroom-pop duo Coco & Clair Clair performed a sold-out show on April 8, 2023 at The Foundry in Philadelphia, PA. The show was stop 14 of 19 on the U.S. leg of their "So Sexy" tour. Their tour, named after their most recent sophomore album "Sexy," started March 18 in Houston, TX and ended April 15 in Nashville, TN.
Coco & Clair Clair have been releasing music since 2015, but it was not until the release of the 2017 single "crushcrushcrush" that the duo became an internet sensation. Since then, the group has been able to grow their following with their hushed vocals, glittery and electronic instrumentals, and fun lyrics.
Upon entering, I saw that the stage consisted of a DJ setup in the back center, a tarped drum kit on the left side and a covered keyboard on the right. Grandma, the opening act listed on the tour announcement, was on stage at around 8:37 p.m. While still a solo artist, Grandma came out with a band and was able to utilize all instruments on stage. While Grandma mainly performed songs off of his most recent alt-indie EP titled "Angelhood," he still played some of his bigger hits like "Downtown Life." Songs like "God Hired You To Be My Baby" and "Somethings Are Easier Done Than Said" kept the energy in the crowd high, even if most of the audience did not know the lyrics. Like Artson, Grandma worked extremely well with the crowd, talking to fans and getting them excited for the main act. Both opening acts were similar enough to feel cohesive while being unique enough to keep the audience entertained.
At 9:33 p.m. Coco & Clair Clair took the stage with their DJ who had been playing music earlier in the night before the opening set began. Both artists were dressed very casually and wore matching sunglasses to complete their looks. The setlist had a little bit of everything, with songs like "The Hills" and "Pop Star" off their album "Sexy." Along with their newer tracks, the duo performed songs like "Wishy Washy" off of their 2020 EP "Treat Like Gold," as well as singles that gained them internet popularity like "crushcrushcrush" and "Pretty." There were a few monitor issues that caused the artists to stop in between songs, but even with their complications Coco & Clair Clair were able to energetically perform each song and created an enjoyable crowd experience. 
Halfway through their set, the two played a quick snippet of ABBA's "Dancing Queen" that they sang with the crowd. Throughout their performance, both artists made sure to interact with the audience as much as possible, accepting gifts and reaching out to fans as they sang. The two played a couple of their older songs, such as "TLG" from "Treat Like Gold" and "Sims 2" off of their debut album "Posh" during the encore before exiting the stage.
Whether you are a new fan of the duo or have known them for a while, their live show had something for everyone. The crowd was consistently lively, the opening acts were just as entertaining as the headliner, and Coco & Clair Clair delivered a great audience experience.