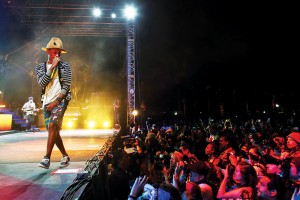 The sun is setting over a beautiful mountain range in southern California. Neutral Milk Hotel's Jeff Mangum is singing sweet lullabies to a crowd of thousands in the final moments of daylight. A member of the band's crew is seeking out those people backstage who are using their phones to take pictures of the performance after the band specifically requested that they refrain from doing so. It's Sunday afternoon on the first weekend of Coachella Valley Music & Arts Festival, and everything is exactly how it's supposed to be.
It always seems to be that on the last day of a festival I am overcome with a flood of emotions and begin to grasp the true magic of live music and the social, musical and emotional power that it contains. That final day is when I reflect on the amazing communities, experiences and memories that music festivals create for everyone involved. Whether it is as an artist, fan, staff member, volunteer or in my case, a stagehand, each person contributes to the magic that a music festival creates. And yet, everyone has an entirely different perspective of the event.
My experience was not that of your usual festival attendee, but rather, that of a stagehand. As such, I had limited freedom in what bands I could see, but working this event did give me insight into the operations of one of the largest musical festivals in the country. I am very grateful for this opportunity and would not have traded it for the world.
As a music industry major here at Drexel, I am constantly encouraged to get involved with the industry outside of the classroom. Therefore, I had a pretty easy time justifying to my professors why I would be missing one or two of their classes.
The opportunity to work at Coachella presented itself to me at my cousin's wedding this past December. My cousin is a talent buyer for Goldenvoice, the company that produces Coachella and is responsible for securing the bands that make up the festival's lineup. A big part of a talent buyer's job is to be a tastemaker: to find bands who are destined to become much more popular between the time they are booked and the time the festival itself rolls around. Booking for the next year's Coachella begins almost immediately once the current year's festival is finished.
In its 15th year, the Coachella Valley Music & Arts Festival is arguably the most high profile music festival in the United States. Situated just three hours from Los Angeles, this seems to be "the" festival for the entertainment industry, and is notorious for drawing some of the industry's biggest stars including Katy Perry, Fergie, Beyoncé, Jay Z, Diddy, Kesha and many, many more.
The Polo Grounds in Indio, Calif., are truly an incredible place. Majestic palm trees line the perimeter of the festival grounds, and mountains stand off in the distance, creating a background for some truly beautiful sunsets. Lots of beautiful, chic, L.A. women roam the grounds, basking in the California sunshine. It's magnificent by day, but it's truly magical by night.
The Polo Grounds become another place entirely once darkness takes over. After the sun goes down, lighting rigs from the festival's biggest headliners take over, illuminating the sea of fans crowded in front of the stages. At the particular stage I worked on, these headliners included Broken Bells, The Replacements, The Knife, Lorde, Lana Del Rey, Pharrell, Nas and Disclosure. Most of these artists and bands travel with at least one tractor trailer full of equipment necessary for their performance, and, for many of them, lighting comprises a large part of their gear.
As far as my work as a stagehand was concerned, I helped with loading gear in and out of trucks, constructing sets, and moving artists' equipment on and off the stage during set changes. I worked with a group of about 13 stagehands led by a production manager, stage manager and production coordinator. Most of the other stagehands are from L.A. and surrounding areas and they work together when they are not in the desert for Coachella or Stagecoach, a country festival produced by Goldenvoice that takes place after Coachella. They were a fun group of people who made the job entertaining for the whole weekend.
Almost all of my co-workers had nicknames: Fish, Large, Skids and Hozer, to name a few. Most of the time I was referred to by my name, Matt, but on a few occasions I got called Greenhorn or Newbie, both rightfully so. Some of them have been around the country on tours and have even explored the city of Philadelphia, visiting local hotspots and pubs in town. One stagehand recommended I visit McGillin's Olde Ale House, which has been filling Philadelphians with beer since 1860. Guess I have some homework to do before Coachella next year.
As stagehands, we had access to most of the festival grounds, and received the same catering as artists, producers, and the rest of the staff and crew. The food was good at first, but got old pretty quickly. It's hard to keep food in an edible state in sweltering 95 degree heat. However, it is really cool to see bands and artists eating lunch a few tables over from you. It's nice to be on the same side of the fence as the artists who will help define the experience of thousands of festival attendees.
In addition to music, Coachella has a strong focus on art, including several art installations and other artistic items like decorated recycling cans. Two of the festival's most notable art installations included a huge inflatable astronaut that traveled around the grounds throughout the weekend and a large orange robot. These items were big hotspots for attendees to take photos. It's unique things like this, plus an amazing lineup of artists and beautiful scenery, that lead to Coachella's dominance on social media while the event is happening.
Not everything I saw at Coachella was positive, however. One day, I saw a young man get carried out in handcuffs by four police officers. I love music festivals, but I hate seeing people in a state like that. I didn't see too many drug-related mishaps firsthand during my weekend, but I can be sure that many of the regular festival drugs were in attendance. I did hear one interesting story about the Sahara Tent, Coachella's EDM stage. According to one source, it is not uncommon for fans to walk around Sahara and give molly to strangers. This is the tent where fans find love for the weekend and act upon it in romantic spots like any of the hot, sweaty port-o-potties.
All in all, Coachella 2014 was one of the best experiences of my life. Not only did I get to see a multitude of incredible performances, but I also gained perspective on the music industry from one of its major hubs. Los Angeles is one of the capitals of the entertainment industry, and the crowd that Coachella draws highlights this fact.
Above all else, Coachella is a gathering of nearly 100,000 people seeking to experience and contribute to the magic that is created by one of the country's premiere music festivals.
I will do my absolute best to return to Coachella in 2015.