"All we need is a little bit of momentum. Break down these walls that we've built around ourselves." The Hush Sound, a Chicago-based indie band, breaks walls by delivering music and lyrics that liberate vulnerable feelings. Greta Morgan and Bob Morris, the originators of the band, have the scarce talent and ability to captivate their audience with sincerity and susceptibility.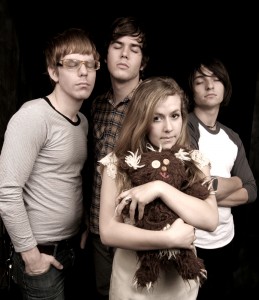 After a five-year hiatus, the band reconnected, produced two new singles and started its current tour. The Hush Sound played a show at the Theatre of Living Arts May 15 to promote its new EPs, "Not a Stranger" and "Scavengers."
I'd never been to or heard opinions on a The Hush Sound concert, so I excitedly journeyed to South Street to get a fresh perspective with a live performance from a band of which I am a fan. Despite inexpensive tickets and a notorious venue, the Philadelphia following for The Hush Sound, to my surprise, was very small. Philadelphia missed out on an energetic show that promoted good vibes with the harmonious sounds of an upbeat piano, strong guitar, Morgan's soft and distinct voice, Morris' stronger tone, subtle drums, and an impressive bass.
The small but devoted crowd interestingly contained different spectra of people. This observation, in my mind, indicates that the band's music speaks to a multitude of people from different backgrounds, and shows the opportunity for the band to grow. The TLA was mostly filled with teenagers and twenty-somethings, but a good fraction of the audience was middle-aged. They sang along, danced and enjoyed themselves as The Hush Sound jammed.
The interaction between the band members was absolutely awesome. Morris and Morgan have known each other since they were in middle school, and it showed. The whole band let off a comfortable family and best-friend vibe. It was as if the stage was their laid-back haven where they could be themselves and have fun.
Between songs, they talked about Morris' love of the Chicago Bulls and how they lost to the Miami Heat that night. The band shared a story of when Morgan, after being discouraged from doing so, decorated the guitars of Morris and bassist Chris Faller with red and green tape. The time between songs is an underrated aspect of concerts that tells a lot about artists. Without a doubt, it was fun to watch The Hush Sound poking fun at each other, but it would have been more exciting if they talked about the drive behind a few of their songs, especially considering the emotional lyrics and the type of music they perform. Of course, the band also interacted with the audience; they kept it interesting with an onstage dance-off with prizes for the winner.
If you're a fan of them, I suggest you listen to their new songs and see them live if they ever come back to the city. If you've never heard of them before, give "Momentum" a listen and add it to your summer playlist this year.