The name Frank Ocean probably didn't mean anything to you before last year, when Kanye West and Jay-Z caught wind of the R&B powerhouse and asked him to collaborate on two "Watch the Throne" tracks. Ocean gave the album its heat, and "No Church in the Wild" remains one of my favorite modern hip-hop tracks.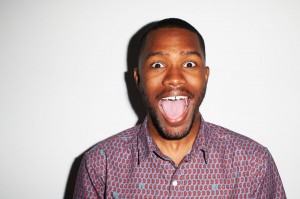 But the 24-year-old vocalist's career didn't start there. In 2010 he evolved from ghostwriting for other musicians to become a part of the Los Angeles hip-hop collective Odd Future, championed by Tyler, The Creator. That same year, Ocean came out with his debut mixtape, "Nostalgia, Ultra," a triumphant social commentary that tipped its hat to Coldplay, Radiohead and the Eagles, to name a few.
His work garnered him a cultlike following, but Ocean really wasn't propelled into the mainstream until earlier this month when he posted a heartwrenching essay to his Tumblr page, detailing the emotional distress that came from his first love with a man.
The attention this post accumulated nearly eclipsed that which he received from his incredible debut album, "Channel Orange," released digitally July 10. Ocean's presumed bisexuality often comes up on the album, bringing a refreshing new voice to the gay narrative.
In fact, all of the magnificent moments on "Channel Orange" are indebted to Ocean's first heartbreak, which seemed to rattle him to his core and make him reconsider his place in the world.
"I wanted to create worlds that were rosier than mine," he said in that eye-watering Tumblr post. "I tried to channel overwhelming emotions. I'm surprised at how far all of it has taken me."
Ocean conveys those emotions through movie references (dialogue from "Forrest Gump" and "Fear and Loathing in Las Vegas" are present), dynamic storytelling and bone-chilling falsettos.
On "Gump," Ocean channels Jenny Curran, serenading Forrest from the bleachers as he famously recovers the ball and runs straight past the end zone in a University of Alabama game.
"I know you wouldn't hurt a beetle, but you're so buff and so strong. I'm nervous, Forrest," Ocean croons, in a gorgeously composed cultural allusion that few straight singers would dare attempt.
Later on the album, he references the man with whom he fell in love on the soaring "Bad Religion." The song finds Ocean in the back of a taxi, and he implores the driver to keep the meter on and "be my shrink for the hour." A string-laden ballad, the song shows Ocean at his most vulnerable as he reopens the deep wound of an unreciprocated love. He also performed the song live on Jimmy Fallon's show, which reduced me to tears. It remains one of the most beautiful performances I have ever experienced.
Another noteworthy track is the operatic "Pyramids," which fuses elements of soul, pop and synth music in a tale that reimagines Cleopatra as a stripper. Clocking in at over nine minutes, the song packs a powerful punch.
Kudos to Frank Ocean for utilizing his ear for subtle production while emphasizing strong vocals and compelling storylines. He's both esoteric and universal, introspective and imaginative. "Channel Orange" is a unique beast worth experiencing regardless of whether you're gay or straight, blue or orange.