It's quite possible that you've never heard of Casey Veggies. The young man from Los Angeles has been flying under the radar for years but is finally breaking out of his shell and letting his presence be felt in the hip-hop industry. At the age of 19, Veggies has already released more mixtapes than most of your favorite rappers have in their entire careers (with the exception of Lil Wayne, but if he's your favorite rapper we have bigger problems). With his sixth and most recent release, "Life Changes," he takes his game up to a new level of greatness. While past projects "Sleeping In Class" and "Customized Greatly 3" have been well received by fans and critics, his latest project, which was released Jan. 22, is an impressive body of work that shows the growth and potential of this young rapper.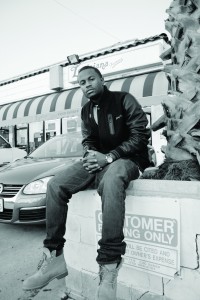 When I spoke to Veggies about "Life Changes," he said, "I wanted to speak about what I'm going through in my life. At this age, you start to grow mentally and look at things differently. I tried to keep it all natural and hear the sound. It was a step up from previous projects, but I also made sure to keep room to grow." The project is the perfect "coming-of-age" story for Veggies, who delivers his best work to date.
"Life Changes" opens with chilling vocals from Phil Beaudreau, who sings, "I found love, then I stopped loving. Found God, then I stopped looking for one. Found a life, but can't make a living. Don't wanna find the end, so I'm still here. Still lost, still here, no past, don't care about looking back anyway, nothing matters anyway." The introduction of the self-titled track provides quite an impact on the listener as the project begins with Veggies sharing his story. "Don't wanna grow up, but I'm grown. Don't wanna blow up, but I'm gone," he raps in his second verse.
Having already released five projects, Casey Veggies understood how much he had grown since he came into the game at the age of 14.
"Being five projects in, I need to find those things that I could've done better and differently. Now, I felt like I was all the way ready to deliver. This was the right thing to say at the right time with this project," Veggies said.
On "Young Winner," Veggies boasts "real young boy with a king's intuition" over smooth production led by piano and strings. This song, along with "She In My Car" featuring Dom Kennedy, "Life$tyles" and "Whip It" make you want to hop in your car during the summer and just drive around with the windows open or top down.
When asked if he felt he had more to prove as a young rapper in the game, Veggies said, "Pressure to be great as a youngin' is deeper because there's a lot we haven't seen or learned yet. You gotta grow into these things, so it's just us being strong and learning to make it happen." And on "Love = Hate," the first half of track 9, Veggies starts his second verse off  with, "I know a lot of things, most of which are gonna change. That comes just from growing up; learning love and hate is the same thing." On this track, he begins to note how people lust for the limelight and how he's working to adjust to it as he becomes increasingly successful. The second half of the song, "Ulterior Motives," dives further into this topic with assistance from BJ the Chicago Kid on the chorus.
Casey Veggies brings "Life Changes" to an end by sharing his story and passion on "Take My Life," which is masterfully co-produced by The Futuristiks and 1500 or Nothin. This is a great summation of the project, in which Veggies proves that he's ready to step into the limelight and deliver with his debut album, which will be released later this year. If "Life Changes" is a sign of things to come, then Casey Veggies is a name to keep an eye on for years to come.