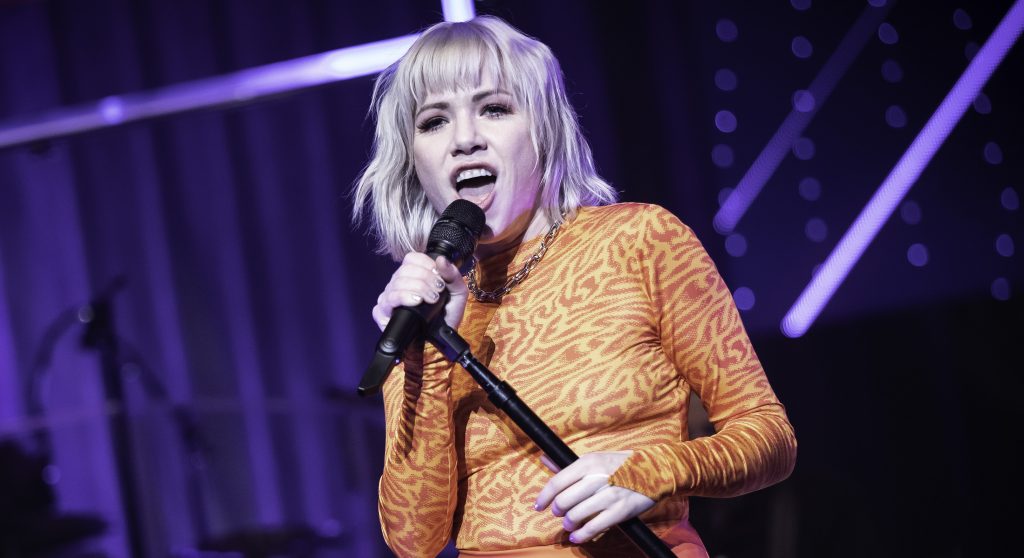 On Oct. 1, pop icon Carly Rae Jepsen took over the concert scene at The Met Philadelphia along with dazzling opening act Empress Of. Doors opened at 7 p.m. with Empress Of taking the stage at 8 p.m. and Jepsen following at 9 p.m.
Empress Of's set was longer than the average opener's, capping off at about 45 minutes. She was dressed in a black and blue outfit. Uniquely, there were four mirrors placed on the stage for the entirety of her performance and a DJ. She started off her set with "Save Me," the title track off her newly released EP. This set the overall upbeat vibe of her performance.
Another notable track was "When I'm With Him," a song off her album "Us" released in 2018. The song was paired with pretty pink lighting, offering a nice break from the faster tracks. However, the best dance track that she performed was her 2018 collaboration with Kito, "Wild Girl." Her stage presence was not only confident, but incredibly engaging. The whole venue, especially the pit, was feeding off of her energy and very into her set.
Before Jepsen's performance, an animated moon appeared on a screen onstage, introducing us to the night ahead, claiming that this night would allow us to feel everything we've been scared to face. The main theme was love and heartbreak, which made sense as that is what most of Jepsen's brilliantly written songs are about.
The crowd's energy was only amplified further when Jepsen took the stage in a sparkly black two piece, opening with "This Love Isn't Crazy" from her album "Dedicated Side B" released in 2020. From the very first note, everyone was dancing. Confetti sprinkled down from the ceiling and set a fun tone for the night.
Another standout track was "Runaway With Me" from Jepsen's 2015 album "Emotion." Not only did it have a great beat, but it was seriously catchy, making it the perfect song to perform live. Shortly after came "Talking To Yourself," a new single off Jepsen's most recent album "The Loneliest Time" releasing on Oct. 21. This song live was a one of a kind experience due to the absolutely epic electric guitar solo. She also sang a heavenly mashup of "Emotion" and "Favorite Colour," two tracks off "Emotion." "Emotion" is a certified no-skip album and I highly recommend it.
However, the absolute star of the show was the song that Jepsen declared we must sing with her because it was the "law." None other than the notorious 2012 serve "Call Me Maybe." Excitement was practically radiating off the walls of the venue, while everyone sang their hearts out. I think everyone's inner child, including mine, healed upon hearing that song live.
Jepsen took a quick break midway through the show and the moon appeared on the screen again introducing us to the second half of the night. Jepsen emerged from backstage clad in a pink sequin dress, immediately jumping into 2014 hit "I Really Like You." Once again, the entire crowd was enamored by her.
Later on in her set, she performed "Your Type," also from "Emotion," dedicating it to all of those in the crowd who have ever been friendzoned. Needless to say we all felt that one. She also surprised us by singing an unreleased song titled "Go Find Yourself or Whatever." This beautiful ballad was quite the switch up from her other songs.
Other notable mentions are the "Boy Problems" ("Emotion") and "Fake Mona Lisa" ("Dedicated Side B") mashup, "Beach House" ("The Loneliest Time") and "When I Needed You" ("Emotion").
Jepsen also performed three songs for her encore: two hits from "Emotion" ("I Didn't Just Come Here To Dance" and "All That") and 2017 single "Cut To The Feeling." They were a flawless ending to a fantastic show. As a self-proclaimed concert goer, this was genuinely one of the funnest concerts I have ever been to. Jepsen is an outstanding performer and definitely underrated within my age demographic. Whenever she tours again, I'll be there.