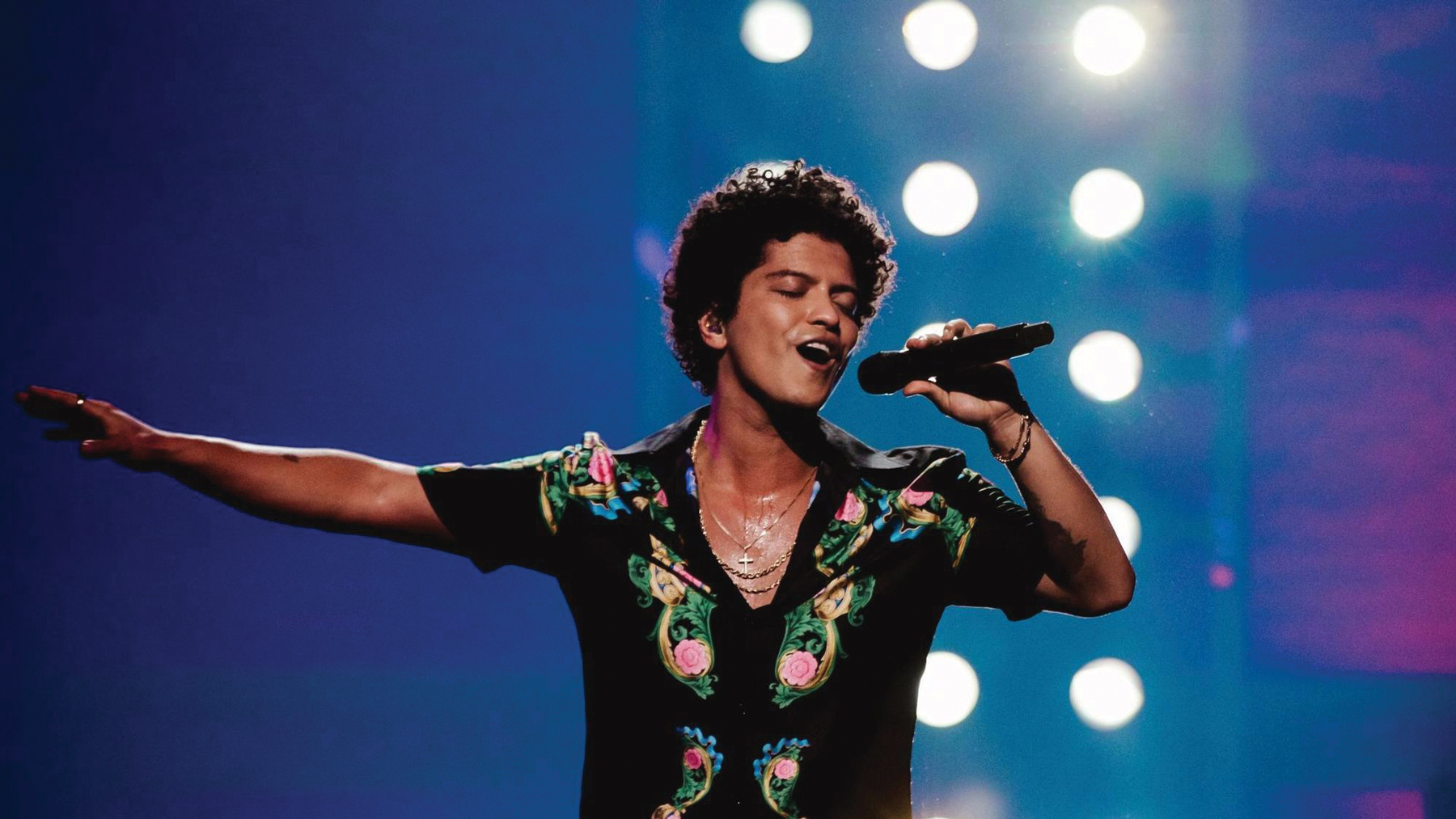 Put your pinky rings up to the moon! Bruno Mars is back in the spotlight, having just premiered his (shockingly) first ever prime time TV special: "Bruno Mars: 24K Magic Live at the Apollo."
"Live at the Apollo" premiered Nov. 29 on CBS. The concert film features Mars performing songs off his recent album, "24K Magic," at New York City's famed Apollo Theater.
The special starts out with scenes of Mars walking around the streets of Harlem, giving out tickets for his show later that evening at the Apollo Theater. The concert itself begins not in the theater, but outside, with Bruno Mars and his backing band (the Hooligans) performing "24K Magic" on top of the theater's marquee. It was an epic and grandiose opening to what was about to be an equally engaging show inside the theater.
Once everyone was inside the theater and Mars finally took the stage, he opened with the new song "Finesse," which is one of the more upbeat tracks on "24K Magic." Bruno Mars and the Hooligans give top notch performances ten out of ten times. It's truly amazing to see them perform on screen with such proficiency all the while dancing and keeping the show as entertaining as humanly possible.
The only song off "24K Magic" omitted from the TV special was the album's closer, "Too Good to Say Goodbye." It's a powerful ballad, but it made sense to cut since there are other powerful ballads on the record and too many would bring the energy down. Instead, they replaced it with the "unofficial tenth track" of "24K Magic" — "Uptown Funk."
"Uptown Funk" was written with producer Mark Ronson and released as a single off his 2015 record "Uptown Special," but it is such a hallmark of Mars' discography that it almost wouldn't make sense not to play it. The smash hit had everyone on their feet and moving. At the end of the song, men dressed up as firemen came on stage and "put out" Mars and the Hooligans with fire extinguishers; it was awesome.
One highlight from the concert included "Calling All My Lovelies," during which he played an epic guitar solo behind a screen of fog and purple lights (which I'm sure was meant to remind us all of pop icon Prince).
Another highlight was when Mars whipped out the sensual ballad, "Versace on the Floor." The song harkens back to emotional rhythm and blues ballads of the '90s, specifically those by Boyz II Men. The production on this track is great, right down to those old familiar synth settings. Mars really goes ham on this song, belting his heart out to the packed theater.
The TV special was not only live concert footage; it was interspersed with short vignettes, each featuring Mars and the Hooligans getting into musical shenanigans around Harlem. In one scene, Mars and company dine at a restaurant and proceed to get up and perform a song after being recognized. In the restaurant, they perform a really solid cover of Jackie Wilson's 1967 R&B hit "(Your Love Keeps Lifting Me) Higher and Higher." I'm hoping that we get a full version of this cover at some point.
Bruno Mars is insanely talented — he is the first example I reach for whenever an old head insists that there's "no talent in today's pop music." He plays all the instruments, writes on all the songs and even produces on all his tracks. The man is simply a powerhouse, and a true gem in the American pop music scene, which can admittedly be pretty bland at times.
When it comes to performing, I am hard pressed to think of an example of anyone who puts on a more entertaining show than Bruno Mars. His vocal performance, the dance routines, the backing vocals, horn section, percussion — every aspect is always flawless.
Hopefully "Bruno Mars: 24K Magic Live at the Apollo" sees a DVD release sooner rather than later (maybe accompanied with a live album? please?). If it's released in time, it would make for a great stocking stuffer this holiday season. If not, Valentine's Day is just around the corner. If you really want to win someone over, a little bit of "24K Magic" might be all you need.