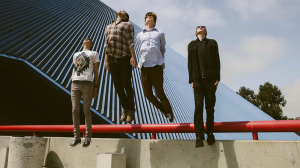 "This is my first concert where I have nothing on me, no drugs — nothing," the mangy sloth waiting behind me in the cold outside Upper Darby's Tower Theater says to his girlfriend, sounding almost surprised. Like he's forgotten them at home. I almost feel like turning around and reminding him, lest he's forgotten, that listening to alt-J is its own special psychedelic experience that doesn't require any uppers. The line keeps on moving. I lose my nerve.
Upon entering, I was romanced by the architecture of the place: the ivory white columns, the elegantly arched walls, the red velvet seats. I wondered what the juxtaposition of highbrow venue and weird-brow music would be like. Perhaps it's akin to getting slimed in the Palace of Versailles, I thought to myself. Perhaps not.
Soon, I was planted in my seat, and found out the answer to the question that absolutely no one was asking: "Hey, what's Mikky Ekko up to now?" Time to get a beer.
I got back just as the lights dim opposite the popping synths of "Hunger of the Pine," a minimalist standout from the alt-J's recent sophomore effort that both features a Miley Cyrus sample and somehow reclaims her words as something exceedingly less vapid and "twerky," appropriating them instead for melodic texture.
My initial thought upon hearing lead singer Joe Newman live was that he sounds exactly like he does on the albums. Which of course means the cat-got-your-tongue, idiosyncratic haiku-laden, stuck-in-a-shallow-well voice I've grown to love since I discovered these guys back in 2012 was present. I was surprised by the continuity. But my boy Newman was on point.
These guys are seriously tight live, but almost painfully so. Sure, their set was gorgeous and immaculately performed. But not once did I get the sense that they were enjoying a single minute of it. And when the crowd was so obviously eating it up, that made for a striking juxtaposition.
A clear highlight was the one-two punch of "Bloodflood" and "Bloodflood Pt. II," which tie for first in my book for the songs in alt-J's catalog that gain the most from being performed live. The bouncy chimes resonate, the guitar plucks and "wahoo oohs" are more romantic, and Newman even loosened his screws for long enough to get a little swagger going. I know — not something you usually say with regards to alternative music.
When the band went Bollywood, I went ballistic. I'm speaking of course about the sitar-laden "Taro," which Lord Vishnu himself clearly blessed because it was pure sonic bliss. "Tessellate" fell decidedly on the other end of the holy spectrum, with crashing chords and sharp, piercing riffs to narrate your descent to hell. Both were stand out performances.
I also found myself impressed by Newman's respiratory endurance as he championed his way through eight breathless repetitions of "… I want every other freckle" without so much as batting an eye. Or maybe he did — it was hard to tell from the upper balcony.
Unfortunately, the first real signs of life from the guys came with their final song of the unexpectedly quick set, when Joey boy flubbed the start of "Breezeblocks" and Alt+J had to hit Ctrl+Z. Then I found myself in the position of having one of my favorite bands beg me, "please don't go, I'll eat you whole, I love you so."
Parting makes for such sweet music.