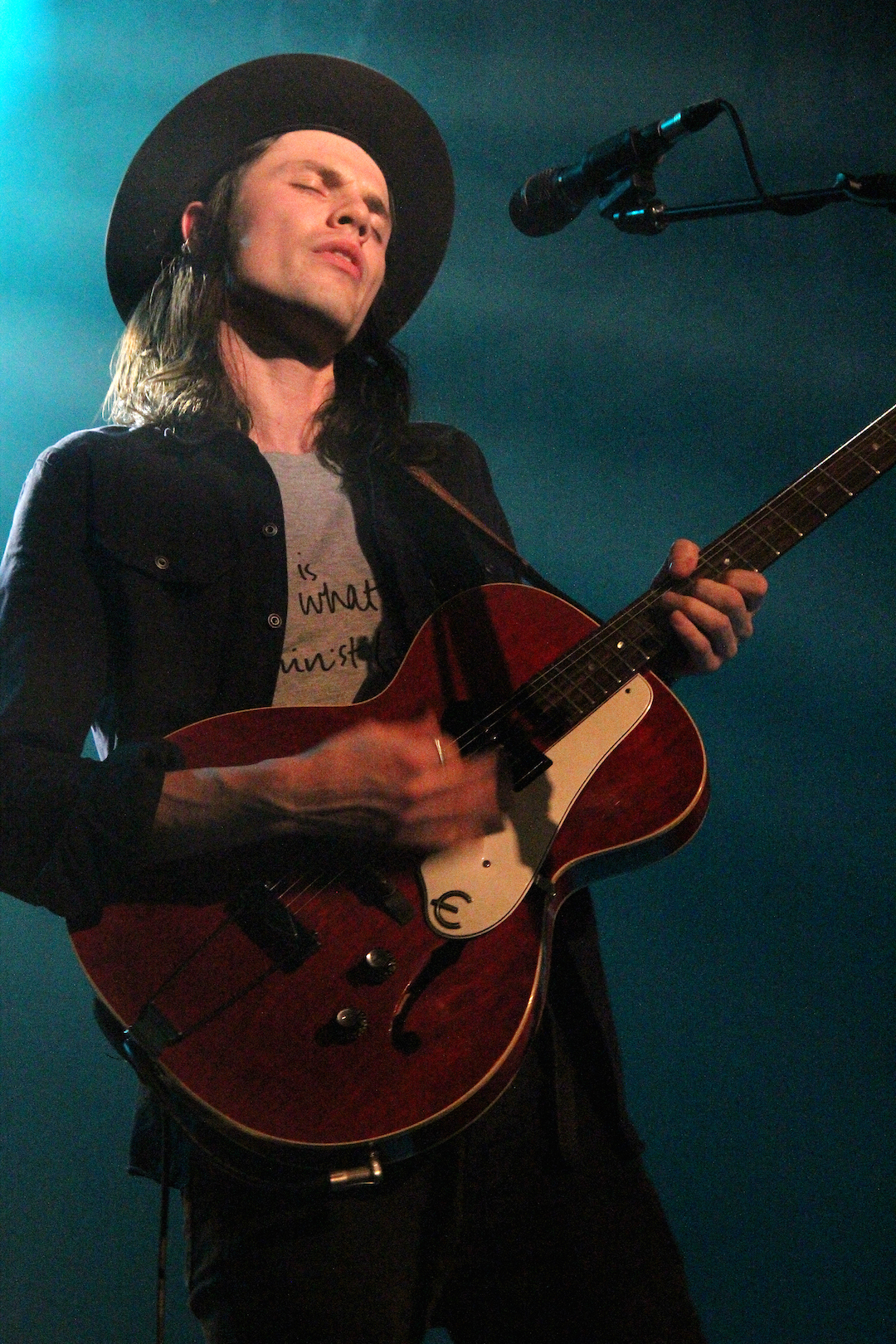 Let's go back to November 2014, when James Bay, a new breakout artist most well known for his song "Let It Go," was the opening act for Hozier at the Trocadero Theatre. Without a released album, Bay performed to a crowd, who were unfamiliar with him and his music and at the concert to see new phenomenon Hozier.
On May 3, the 24-year-old singer-songwriter from Hitchin, England, returned to the same venue with a full band and new attitude as the headliner to a packed audience. His 13-city tour, which kicked off March 16 at the Bowery Ballroom in New York, has completely sold out in every city.
After a 45-minute wait in between him and supporting act Marc Scibilia, a musician hailing from Nashville who had his cover of Woody Guthrie's "This Land is Your Land" featured in a Jeep ad during the 2015 Super Bowl, roaring fans welcomed Bay when he finally hit the stage. With his signature brim hat and strapped guitar in-hand, he opened with "Collide," a song off of his debut album "Chaos and the Calm," which was released in March. The 12-song album has garnered much buzz, reaching No. 1 on the iTunes singer and songwriter chart and top-10 on the overall album chart.
The entire night, Bay had everyone on edge ready to belt out the lyrics to his songs. His set list comprised of "Scars," a song about a rekindled relationship that he mentioned took two years to write, "When We Were On Fire," "Craving" and many other fan favorites.
Bay concluded the set with "Hold Back the River" and a surprise, soulful rendition of Alicia Key's hit "If I Ain't Got You" from her 2004 album, "The Diary of Alicia Keys." He added his own twist to it with his raspy voice and audacious guitar solo. Departing the stage to room full of whistles and handclaps, he left the audience wanting more.
Bay's music and presence is spreading like wildfire, making an appearance at the 2015 Met Gala with Game of Thrones actress Sophie Turner to sweeping at the 2015 Brit Awards, taking the critics choice award home. In addition, he was named VH1's "You Oughta Know" artist to watch for the month of April, a title once given to prominent acts like Ed Sheeran, Adele, Lorde and Sam Smith. You know he's on the right track.
With all of his achievements and numerous pats on the back, Bay has been placed on nearly every artist to watch or know list imaginable. Bay recently told Observer in an interview, "I would certainly rather be in that situation than the opposite. I don't know if this is just a bizarre thing personally, but all that pressure that comes with being hyped up or on lists is very exciting for me. I love it; the feeling of the whole situation. There's nothing like the energy created by that, especially when I go on stage. I feel like I've seen it around other people over the years and the whole time I thought, 'Wow that seems like an exciting place to be.' Now that I'm there, I'm drinking it in and using all of that on stage."
With the success of his tour and album, Bay will return to the states in July and August for an extended leg of dates and a few music festivals, including Lollapalooza, The Outside Lands and Mo Pop.