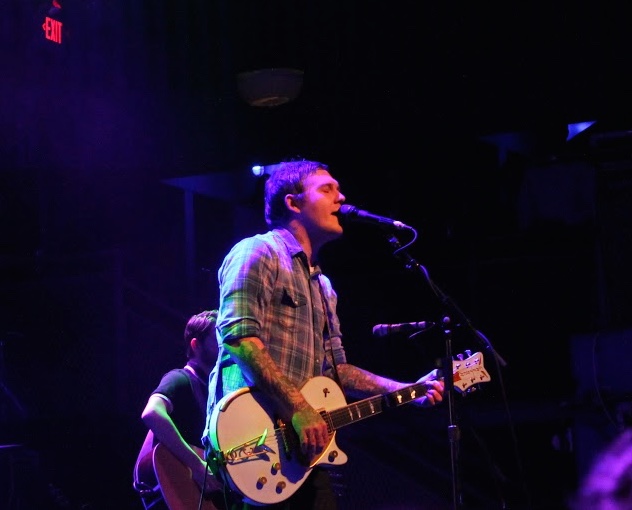 Brian Fallon will release his first solo album, "Painkillers," March 11; and he kicked off the release with a show at the Electric Factory March 8. Known for his role as the lead vocalist and guitarist of the renowned The Gaslight Anthem, Fallon is also a member of the Horrible Crowes and Molly and the Zombies. He is used to being part of a group, so this album will be Fallon's first opportunity to be free from restrictions and guidelines. The concert foreshadowed this new side of Fallon, proving that the 36 year-old artist from New Jersey can create tasteful alternative-rock music independently. Fallon was able to deliver an unexpectedly flawless performance made even better by his captivating persona.
The show opened with Jared Hart of The Scandals. Hart set the stage for an evening filled with zealous voices and lyrical brilliance. His rough voice boomed through the venue, perfectly complimented by original guitar riffs. The next act, Austin Plaine, contrasted Hart's edgier style with softer folk.
Finally, Fallon himself dashed on stage, immediately sharing his charisma with the excited audience. Fallon wasn't ready to perform on his own yet and had help from five others including several members of his former groups like Alex Rosamilia of The Gaslight Anthem and Ian Perkins of the Horrible Crowes. Hart also jumped back on stage to help with backing vocals.
Though it was a big night for the artist, Fallon remained calm and sang with more personality than ever. After perfectly belting out the first few songs, he shared amusing stories about his love for Ellen DeGeneres and "Access Hollywood." As the audience erupted in laughter, it was hard to distinguish between a stand-up comedy show and a musical experience. Fortunately, Fallon is as talented lyrically as he is at coming up with humorous stories on the spot. In addition to fan-favorites like "Nobody Wins," "A Wonderful Life," "Smoke" and "Steve McQueen," Fallon amazed the audience with some brand new songs as well. Of course, he never stopped cracking jokes in between songs and continued to charm the crowd. Fallon made the performance very personal, telling the audience that he'd love to hang around if anyone wanted to "say hi."
The show marked an exciting milestone for Fallon and proved that he is ready to take on the solo experience. Fallon stood stronger than ever, signifying his growth as an artist. He certainly has the talents and the personality to charm the world even without fellow members of The Gaslight Anthem. Although many fans were upset by the band's recent hiatus, the talent and creativity lives on through Fallon himself.