It all started out on a backwater cable channel known for two things: classic movies and a new hit show titled "Mad Men." In 2008 AMC picked up "Breaking Bad," a show passed over by major networks like HBO, FX and TNT.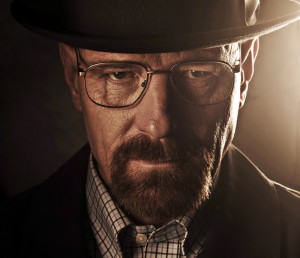 AMC couldn't have known that one of the greatest television dramas ever had just fallen into its lap — an intense character study of a chemistry teacher-turned-drug kingpin over the course of five harrowing seasons filled with intelligent writing, symbolism, foreshadowing (the teddy bear!) and amusing musical choices.
In this tale of Bill Nye the Science Guy gone bad, series creator Vince Gilligan, in his own words, successfully turned "Mr. Chips into Scarface" in a phenomenon that will go down in the annals of television history.
Ever since he taught his high school class that chemistry is the study of transformation, Walter Hartwell White (aka Heisenberg, aka Mr. Lambert) turned into perhaps one of the greatest anti-heroes of all time right before our eyes.
Yearning for happiness, power and control, Walt finds only madness, despair and death as his world crumbles around him. Despite his heinous crimes, we all stuck with him, wondering how far he could go before losing his soul completely.
As fans now know, nothing was beneath him when it came to getting his way — not even poisoning a child was outside his realm of possibility. Despite being known for his comedic roles on "Malcolm in the Middle" and "Seinfeld," Bryan Cranston slipped comfortably into the skin of a sociopath trying to provide for his family by cooking the purest crystal meth on the block after being diagnosed with terminal lung cancer.
The show moved along deliberately, developing plot and characters, episode by episode, until it burst out into action scenes that would often surprise, leaving you gasping as you watched.
We all held our breath as we watched the intricate cat-and-mouse game slowly unravel between Walt and his DEA agent and brother-in-law Hank Schrader (Dean Norris). With plenty of shootouts, a plane crash and a train robbery, scenes often paid homage to the great crime, action and western genres. A page was even torn from the Indiana Jones handbook, as Nazis were made into the final villains of the series.
The colorful characters that Gilligan and his writing staff cooked up over the years, as well as the impeccable casting, drove the success of the storyline. Be it Giancarlo Esposito's calm but dangerous Gustavo Fring, Bob Odenkirk's sleazy lawyer Saul Goodman, or Aaron Paul's Jesse Pinkman with his now iconic one-word catchphrase, "B—-!" we immersed ourselves in the drug underworld of Albuquerque once a week and never looked back.
Gilligan said that "The Twilight Zone" is his favorite show. In the same vein as the anthology series, Walt is plunged into a dark universe. As things go to hell so quickly, one may not have been surprised if the camera panned to a smoking Rod Serling, who would inform us that we had just entered that frightening dimension of sight, sound and mind.
However, few viewers seem to realize that "Breaking Bad" almost didn't make it past season 2. With a shortened first season (due to a writers' strike) and a second season that didn't have a huge audience, the cult show seemed destined for cancellation. But it turned out that a new website, a growing cultural phenomenon, would swoop in to save the show — Netflix.
Looking back, Gilligan unknowingly wrote a show that catered perfectly to the mass of binge-watching Netflix users. The online streaming service allowed the show's audience to grow tremendously and to stay on the air.
By the fifth and final season, the show began to focus more and more on action scenes and big set pieces. The character and story development that were so carefully parceled out before seemed to have been replaced with nonstop action, something we're all too familiar with in popular culture in the modern age.
With national media coverage, an online crowd frantically trying to catch up before the end, and bigger expectations than ever, the show seemed to have begun to cater to the largest common denominator instead of maintaining its carefully cultivated character and panache.
Departing from the norm, AMC decided to break up the final season, creating a year's worth of tension — a year's worth of hype that, at times, seemed too great for even "Breaking Bad" to overcome. In the end, these final poetic episodes tied up all loose ends and delivered with nail-biting drama, raw emotion, death and, ultimately, redemption.
In a world where Twitter and Facebook allow everyone to be a critic, where the majority looks for the newest trends to make their own, "Breaking Bad" found a loving home online and on our television sets. There has been an unending stream of acclaim for the show, and its finale won't put an end to this praise any time soon.
Like his main character, Gilligan has amassed an empire thanks to a series more addicting than blue meth itself. As Walt walks through that meth lab one more time to Badfinger's "Baby Blue," we are reminded, with tears in our eyes, that sometimes things can be so bad that they're good.