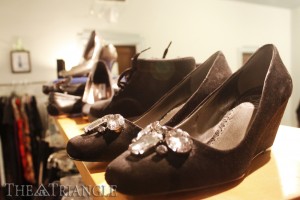 The Wardrobe Boutique, located at 1822 Spring Garden St., offers formal and casual clothing at affordable prices. The boutique also accepts donations and volunteers. If you bring your student ID to the store, you will receive a 10 percent discount.
Imagine preparing for an interview with nothing to wear. A majority of Drexel University students can declare that looking presentable in an interview can make or break you.
Sadly, many women in transition cannot afford to buy outrageously priced clothing or possess the correct job training for interviews. Fortunately, local woman in the Philadelphia region decided to do something about it.
Since 1995, The Career Wardrobe has been fighting for the empowerment of nearly 70,000 women. The Career Wardrobe not only provides new and gently used clothing for job interviews but also offers employment and career objective training for women in transition. These programs include, but are not limited to: resume review and interview assistance, dressing and image consultations, and educational programs. The Career Wardrobe, which is the nation's largest independent community-based nonprofit organization, expanded their program in 2009 by opening The Wardrobe Boutique, an upscale new and gently used women's apparel boutique.
The Wardrobe Boutique is located at 1822 Spring Garden St. Frugal fashionistas are encouraged to browse, try on and purchase anything from casual to formal clothing, all at affordable costs. The Wardrobe Boutique generally receives donations every day, but store manager Melanie Frazza hints that "Thursday and Friday are best for checking out new arrivals." Designer brands such as "Juicy Couture and Citizens of Humanity are available for less than $50. Students get a 10-percent discount as well," Frazza said.
Additionally, The Wardrobe Boutique conducts special events throughout the year, including free monthly clothing exchanges, college shopping nights, holiday promotions, and prom and wedding gown sale events. Proceeds from store profits and special events directly benefit The Career Wardrobe. Frazza describes The Wardrobe Boutique's mission as "making interview and casual clothing that is usually really expensive, more accessible for a larger range of college students and older women."
Donations for The Wardrobe Boutique are greatly appreciated and must be scheduled by appointment. To donate, the article(s) of clothing must fall under the following categories: matching business suits, "Casual Friday" outfits, service industry items, scrubs without logos and gently worn accessories.
If you are interested in volunteering, Frazza said, "We welcome volunteers at The Wardrobe Boutique as well as high school and college students for internships. These students can gain experience in retail therapy as well as working for a nonprofit organization."
Store hours are Tuesday through Saturday, 11 a.m. – 6 p.m., and Wednesday 11 a.m. – 7:30 p.m. For more information call 215-568-2660 or visit www.wardrobeboutique.org.