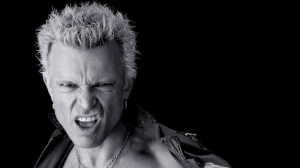 Philadelphia is a popular destination for many bands from a variety of genres. With so many opportunities to see some live music at any of the venues around the city, here are a few upcoming concerts that are worth checking out.
Future Islands — Jan. 10-11 at Union Transfer
Taking the world by storm, the Baltimore-based synthpop band Future Islands made waves with their network television debut on "The Late Show with David Letterman." Touring in support of their latest album, "Singles," the three-piece group has been on the road for quite some time. Behind the charismatic crooning of lead singer Samuel T. Herring, Future Islands has become known for their energetic live performances and cult following. Catch them at Union Transfer Jan. 10-11.
Billy Idol — Jan. 24 at the Tower Theatre
Rock legend Billy Idol is coming to the storied Tower Theatre Jan. 24 for a show that is sure to be incredible. With his seventh studio album, "Kings & Queen of the Underground," which was released in October 2014, the punk rocker is sure to entertain. With a catalogue spanning more than 30 years, Idol is sure to play classics such as "Rebel Yell," "Dancing with Myself" and "White Wedding."
The Wonder Years — Feb. 6-8 at Union Transfer
Hometown boys The Wonder Years are coming home for a must-see three-night stand at Union Transfer, with each show featuring the band playing one of their albums in its entirety. The three albums they're going to perform are, in order, "The Upsides," "Suburbia, I've Given You All and Now I'm Nothing" and "The Greatest Generation." Guest stars are sure to abound, and all three shows are sold out; try to find some tickets one way or another, because you won't want to miss this.
Parquet Courts — Feb. 8 at First Unitarian Church
New York City-based band, Parquet Courts is playing at First Unitarian Church Feb. 8. The band rose to stardom with their third studio album, "Sunbathing Animal," which reached #55 on the Billboard albums chart. The indie rock group puts on an engaging live performance that is sure to satisfy. Check out their songs, "Bodies Made Of" and "Stoned and Starving."
Kishi Bashi — Feb. 18 at Union Transfer
Combining violin skills with a poppy up-tempo style, Kishi Bashi is gaining popularity in the United States as a touring force. He started his career touring with Regina Spektor as a violinist, but with the release of his debut album "151a" separated himself as a successful solo artist. He's currently touring America in support of his recent album "Lighght" and will be performing at Union Transfer with a string quartet.