It's that time of year again when music artists get rewarded for their success on the Billboard charts. The 2012 Billboard Music Awards aired live May 20 from The MGM Grand in Las Vegas. "Modern Family" stars Julie Bowen and Ty Burrell hosted the tribute- and performance-filled event.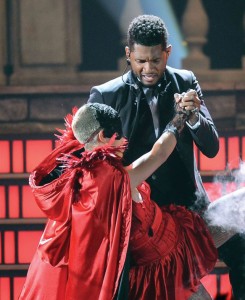 Bowen and Burrell kicked off the show with music video spoofs. Once it was down to business, they paid tribute to the most recent loss in the music industry, Robin Gibb of the Bee Gees, who died earlier that day.
The first act of the night was LMFAO, performing a medley of hits that included "Party Rock Anthem" (winning them the Hot 100 Song of the Year and the Duo/Group award), "Sorry for Party Rockin'" and "Sexy and I Know It."
The performances were dance-heavy but a bit disappointing. While one would assume that artists would showcase their talents, lip-syncing seemed to be a common theme. One of the alleged lip-syncers was Justin Bieber, who won Social Artist of the Year, after spending 50 weeks on Billboard's Social 50 chart. His mostly lip-synced performance of "Boyfriend" was backed up with dancing and an array of neon lights. Other seemingly lip-synced performances included Chris Brown with "Turn Up the Music" and Usher's "Scream."
Luckily, powerhouses Kelly Clarkson, Carrie Underwood, Linkin Park, Katy Perry and even Nelly Furtado (who's been off the pop radar for a while) all rocked the show with their new hit singles. Carly Rae Jepsen also made her big debut performance with the bubblegum pop hit "Call Me, Maybe."
Aside from the new hits, many tributes were made after Gibb's. After Wiz Khalifa received the New Artist award from Miley Cyrus, he paid his respects to Adam Yauch, also known as MCA, of the Beastie Boys. Cee Lo Green and Goodie Mob performed "(You Gotta) Fight for Your Right (To Party!)" in tribute to Yauch.
Though not all of the performance was shown, Natasha Bedingfield gave tribute to the late Donna Summer by singing "Last Dance." Lastly, Whoopi Goldberg opened up the tribute to Whitney Houston with a few words. John Legend sang "Greatest Love of All," leading to Jordin Sparks belting out the legend's signature ballad, "I Will Always Love You." Goldberg presented Houston's daughter, Bobbi Kristina Brown, and sister-in-law, Pat Houston, with the Billboard Millennium Award on the late singer's behalf.
Dominating the awards were Adele, who won 12 awards, and LMFAO, who won six.
The nominees seemed to lack diversity. Top Rock Artist and Top Alternative Artist, both won by Coldplay, had the same nominees. Adele, Lady Gaga (who dominated the dance categories) and LMFAO were each nominated twice in a category that they won.
Additionally, some artists seemed to be misplaced in categories. Adele's "Rolling in the Deep" gave her the award for Top Alternative Song and was nominated in Top Rock Song alongside "Someone Like You." Last time I checked, Adele's music wasn't anything close to being rock.
A few deserving awards were also given. Lisa Marie Presley presented the Spotlight Award to Katy Perry for her five No. 1 hits on the Billboard Hot 100 from her album "Teenage Dream," a feat previously accomplished only by Michael Jackson with "Thriller." Zooey Deschanel recognized Taylor Swift's success since the launch of her career by presenting her with Billboard's Woman of the Year trophy.
Closing the show, Alicia Keys handed Stevie Wonder the Billboard's Icon Award after a duo medley of his hits. Keys also performed "Empire State of Mind" for Wonder's birthday.
Stevie went on to give a speech asking for world peace, singing a new song titled "Join Our Love" and rolling the credits with "Superstition."