It all started when Big Sean rapped outside of a Detroit radio station for Kanye West. In 2007, Sean signed with Kanye's G.O.O.D. Music label and began what has been an incredible journey up to the release of his first album. After four long years, seemingly endless delays, three mixtapes and lots of promotion, Big Sean finally released his debut album, "Finally Famous" through Island Def Jam and G.O.O.D. Music, June 28.
Although he previously had a co-sign from Kanye West, Sean has worked hard for everything he's earned. In the process, he's had many great opportunities to work with legends on "Finally Famous" such as No I.D., who produced the album, Pharrell Williams and Kanye himself. Sean has had to deliver high quality performances to earn their respect and trust. He began to gain that respect with his series of "Finally Famous" mixtapes. With each mixtape, the buzz continued to grow and Sean continued to show improvement, while making an impact across the hip-hop genre with his unique rhyme schemes.
"Finally Famous" is a showcase of Sean's talent and range as an artist. He presents many different genres on one platform within hip-hop, which you don't see from most rappers these days. He has street bangers, emotional anthems and everything in between. Although the album varies in sound throughout, Sean is consistently dominant on each record, no matter the feature or producer.
The message Big Sean tries to get across through his debut album is that no matter what people tell you, if you follow your dreams and work hard you will succeed. Sean followed his dreams of becoming a rapper and it's finally paying off for him. The album's lead single "My Last," featuring Chris Brown, reached No. 1 on the Billboard charts last week. Sean shut down the Adidas store in SoHo during an in-store appearance, left thousands of fans waiting outside of his free album release concert at Irving Plaza in New York City and is currently touring around the country with Wiz Khalifa.
"Finally Famous" highlights Sean's skills on a variety of different subject matters. He'll have you saying his signature adlibs, "I Do It" and "Boi" after hearing the hard-hitting "I Do It." He'll have you reminiscing about your life on "Memories pt. II" featuring John Legend. And he'll have you dancing in the clubs all night to "Marvin & Chardonnay" featuring Kanye West and Roscoe Dash.
One of the album's most anticipated songs was "Get It (DT)" which is produced by The Neptunes and features Pharrell on the chorus. This song has been heavily talked about for a few years and Sean delivered some of his best lines on the album including, "I just gotta have it, imagine it, make it happen, I prayed about it and grabbed it, my life is a f***ing movie, the baddest bitches get casted, I'm in a race with my self to see who can get it the fastest."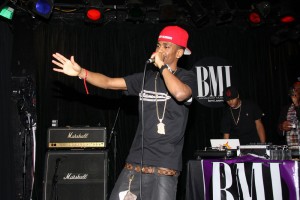 The final song on the album is "So Much More," which leaves the audience with Sean's success story and gratitude after a strong display of his rapping ability through different flows and rhyme schemes. He says, "Text from my mom said me and your grandpa proud, I'm way too deep in the game, to go sit back in the crowd."
Sean's progress over the last four years has been incredible. All of his hard work has paid off with the release of "Finally Famous," which has given him the opportunity to reach fans through his unique sound and a variety of content. After delivering one of the best debut albums of the last 10 years, I think it's safe to say that Big Sean is Finally Famous.