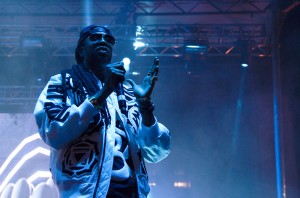 Drexel hosted its very first Fall Fest concert Oct. 4, organized by the Dragon Concert Series with co-headliners Big Sean and 2 Chainz. A sea of wide-eyed 20-somethings clamored against the security gate in front of the stage, hands in the air, with an electrifying emcee feeding in to the energy of the night. As the beat crashed down, a steam cannon burst above the crowd and confetti rained down on the audience. It was a success.
According to senior entrepreneurship major and director of Dragon Concert Series Ben Melman, "Fall Fest became the largest concert in Drexel history two days before the show and sold out the day of with 5,500 attendees." He continued, "our initial capacity was 7,500, but due to police and public safety restraints, we made the call to limit it to 5,500."
With numbers like that, it's easy to believe that the headlining acts were responsible for drawing such a large crowd. Sophomore finance student Connor Wilson admitted, "I only came for the last two artists, which were amazing. Big Sean is probably my favorite artist." Being that Big Sean recently signed onto Jay-Z's Roc Nation and is releasing a new album, the rapper listed under Kanye West's G.O.O.D. Music imprint is a relevant act to perform in the City of Brotherly Love. Since 2 Chainz is a G.O.O.D. Music label mate, it's easy to assume his appearance is, as well.
The doors opened at 6 p.m., with people in line to get in late into the night. For students the tickets were $10 while for guests the price was $30. Sophomore biology student Tarynn Anthony noted, "The difference between the guests and the students [tickets] were a little bigger than it needed to be, but for artists like 2 Chainz and Big Sean I don't think that even $30 was bad at all." Other students also seemed to agree with the pricing, especially the student price.
This year's show featured a number of openers, most of them falling under the umbrella of house or electronic dance music. Opening acts ranged from Drexel's own Mr. Sampson and local singer Kriss Mincey, to bigger acts such as producers Cashmere Cat and Wave Racer. After Kriss Mincey wowed the crowd with her cover of Minnie Riperton's unforgettable "Lovin' You," the DJs took the stage, each rocking the crowd with their electronic-tailored sets.
After three hours of EDM sets, punctuated by a few modern-day rap hits played to get the crowd hyped for its next hip-hop acts, people waited impatiently for the stars of the show to enter center stage. Two emcees kept the crowd engaged during the transitions between the acts, and to do so they amped up the crowd by urging audience members to chant "Free Meek Mill!" over and over — in reference to the incarcerated Philadelphian rapper.
Finally, a little after 9 p.m., the crowd roared as Big Sean jumped on stage and broke into his set. Paired with a drummer giving the performance that extra punch and live feel, he kicked off the biggest part of the show. Fans screamed for the Detroit rapper and rapped along to many of his songs. The whole crowd strongly felt the vibe of classics like "Mercy," "My Last" and "Beware," all hit singles. During "Beware," Big Sean jumped off the stage and started walking by the crowd, holding up his mic and having individual audience members sing the hook: "When you said this was over / you shot right through my heart …" This lasted quite a few minutes, and the crowd loved it.
There was an infectious appeal to Big Sean's performance. People were sitting on friends' shoulders to get a better view; some concertgoers were even escorted out of the show for hopping the security gate in front of the stage — it was an effort just to keep the fans in their place.
At one point in the performance, Big Sean ripped off his shirt and threw it into the crowd, which really set it off. He continued, rapping other songs like the fan-favorite "Guap." This one in particular rocked fans as the bass shook the pavement beneath their feet. The energy was nearly at its peak. That was, until the lion from the "Guap" music video came on stage wearing a Flyers jersey. The mascot of sorts took to the stage and danced along to the beat of the track as fans cheered him on. After performing his featured verse for "All Me," the bonus track off Drake's latest "Nothing Was the Same" album, Big Sean closed out his set and exited left.
"As expected, the crowd responded well to all of the artists on the bill, particularly to Big Sean, who featured a live band, and to 2 Chainz, who featured a stellar laser show," Melman said. 
Dragon Concert Series pushed for an encore appearance by Big Sean but according to a member of his entourage, the rapper had to leave immediately after his set to attend a 17-year-old's birthday party in New York City. He apologized he could not stay longer for photos and interviews and waved to us as he exited the stage and entered his Escalade.
All that was left was 2 Chainz, a polarizing figure in the world of hip-hop. The two emcees returned to the stage and resumed their "Free Meek Mill" chant, although the crowd did not seem as into it as they were before. No matter, because 2 Chainz wasted no time keeping the fans thriving by hitting the stage and getting the crowd to call out his name in classic fashion: "2 Chaaaainnnnz!"
In an interesting break of sequence, 2 Chainz picked up where Big Sean left off by reciting his verse off of the same track Big Sean ended his set with — "All Me." It's unclear why they did not perform the song together and then have Big Sean leave while 2 Chainz took over, but the crowd did not seem to mind as they began singing along to Drake's dubbed chorus for a second time: "Came up, that's all me / stay true, that's all me / no help, that's all me / all me, for real!"
Being an artist known for his array of features containing easily memorable lyrics, 2 Chainz's set was peppered with numerous chart-topping rap singles, both of his own kind and features. He brought the crowd back to his early days with his first hit as half of the duo Playaz Circle. "Duffle Bag Boy" was first; "Turn Down for What" and "Talk Dirty to Me" came soon after and were two of the highlights of 2 Chainz's set, since the crowd raved and jumped in unison with the heavy bass drops.
2 Chainz was very comfortable on stage, at one point grabbing a box and sitting on it and even sliding across the stage laying on it like Superman. During one song, his entourage came out on stage too and began rocking with the headliner and with the crowd. Lot F was alive with excitement.
At 11 p.m., the G.O.O.D. Music artist took a break from the music and asked to have the lights turned on so he could see the crowd. He then asked for everyone to put two fingers in the air; it was then that a cadence of distorted, bell-like synths bubbled in the background which everyone instantly recognized as the melody to 2 Chainz's lead single from his debut album. "No Lie" bumped loud as the crowd kept their hands in the air and cheered on the emcee. After a bridge in the song, the beat dropped with a grand finale of steam cannons and confetti blasters that blew a sea of bright colors all across the venue.
In a much more open atmosphere, Fall Fest gave wind to a lot of space for concertgoers to be, but few could leave the seemingly magnetic presence of the stars on stage. When asked what they thought of the show, every single student interviewed attested that Fall Fest was great; most even said it was better than Midnight Madness and Homecoming, the shows that this event replaced.
If one thing is for certain, it is that the main acts did not disappoint. Big Sean's high energy and crowd engagement warmed them up to 2 Chainz's hits that slapped the crowd left and right. There was never a dull moment when they were on stage. Based on the outcome of the show, the audiences' engagement and overall appeal, many students agreed that they would come to future Fall Fests. Though this is Melman's first and last Fall Fest, if this year's show is any indication, a new standard for concerts at Drexel has been created and is here to stay.
Correction: October 16, 2014
An earlier version of this article implied that Drexel Traditions was the primary organizer of Fall Fest, when in fact Dragon Concert Series was. The earlier version also made inappropriate speculations about how Big Sean's contract was obtained. Big Sean's contract was secured by DCS through his agent. The Triangle regrets these errors.