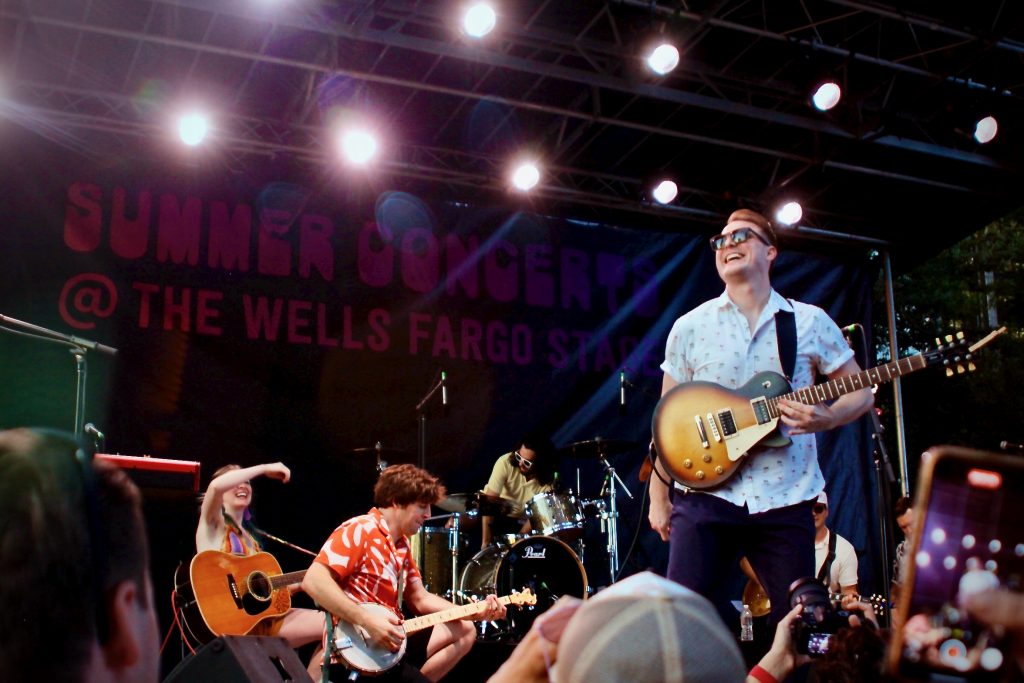 In an empty Sephora at Hudson Yards mall in New York City, The 502's — known as The Happiest Band on Earth — prepped for the Hudson Yards summer series concert. The six members exuded an air of familiarity as they goofed off and laughed together, including Joe Capati (saxophone, trumpet, harmony vocals), Sean Froehlich (drums, percussion), Ed Isola (lead vocals, banjo, acoustic guitar), Nicholas Melashenko (bass, harmony vocals), Gracie Phillips (guitar) and Matthew Tonner (keys, electric guitar, harmony vocals).
Recalling how their band started, Isola joked that they met on Hinge. In reality, their music progressed from grade school until college, ultimately leading the band together in their home state, Orlando, Florida. Through DMs and "Irish Pub meetups… that's kind of how we started" he said.
Isola started in banking, but a new path opened after some videos went viral. Melashenko and Capati's classical training plus Tonner's musical background created the band's foundation. Melashenko's aspirations started at age 14 while Froehlich played in his high school band: "I always wanted it to be a career, but it was kind of hard until we had an opportunity and things have been moving forward, so it just kind of worked out."
Phillips' musical passion has persisted her entire life through growing up in a musical family. Her professional pursuit began in late high school. Tonner and Capati became friends in grade school, while Froehlich and Melashenko crossed paths in college. Melashenko and Tonner's mutual passion for jazz at Rawlin's College in Florida kickstarted their decade-long partnership.
Capati remembers Melashenko joining The 502's as their bass player and completing the band. Froehlich then compared Orlando's lively music scene with New York City's creative atmosphere, where artists collaborate to create impactful music.
The 502's consider how their experiences' influence their uplifting music. Isola attributes their sound to their positive personalities. However, their early albums also reflect individual hardships, "that's not what we want to be doing with our life. We want to be feeling good."
Tonner expresses that "It's a lot easier to play happy music consistently." He joined The 502's because their music makes them feel good, even if they initially felt down. The band members' natural compatibility creates an enjoyable atmosphere. Tonner emphasizes "It's hard to fake happiness," showcasing their music's authenticity.
As the conversation shifts to dream collaborators, Isola admires Shakira and Mumford and Sons while Froehlich's dream is to work with Dave Grohl due to his character and influential presence in the music scene. Capati envisions adding a sax solo to a camp track, even if it's brief. Tonner envisions collaborating with Post Malone, while Melashenko thinks of Jon Bellion, along with intriguing choices, Rick Rubin and Phil Collins. Phillips envisions partnering with The Punch Brothers, Nickel Creek, or music similar to Chris Thile's and exploring bluegrass alternative styles.
Afterward, Phillips shared advice for young people and aspiring creatives: "Don't ever put an age limit on yourself." She emphasized how musicians often quit before reaching potential. The band's decade-plus-long experience exemplifies this: they understand that mastering skills, building confidence and finding artistic sound all require time. "If it's something that you're really passionate about, don't give up on yourself."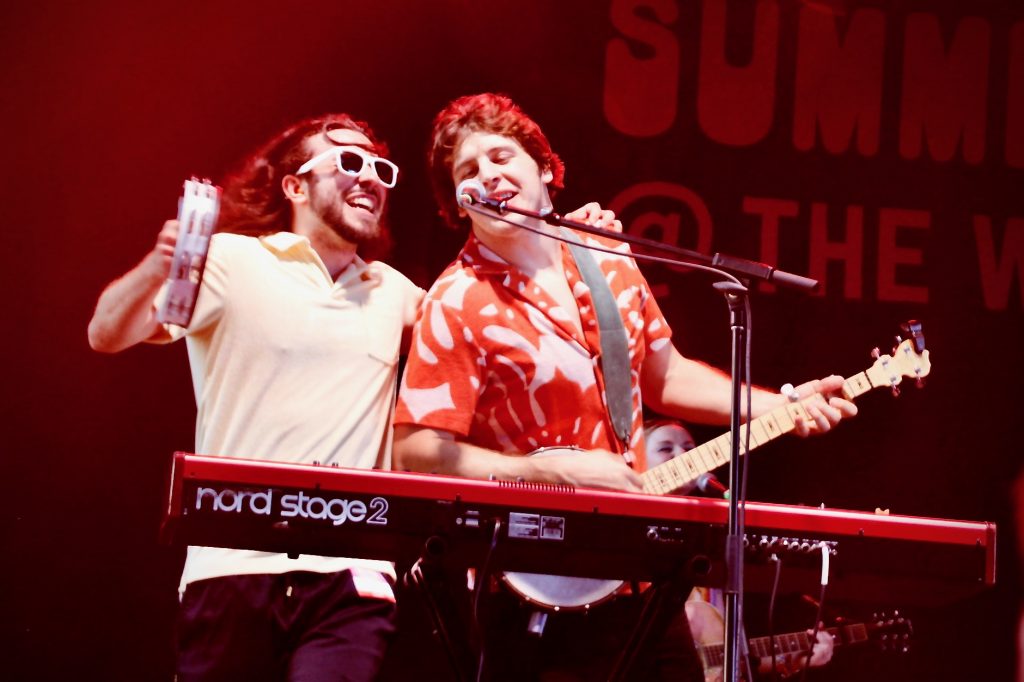 Melashenko stresses cherishing alumni networks, passionate peers and a supportive environment; "they'll guide you into adulthood after college." Melashekno points to Tonner: " I kept a relationship with Matt after college, and if he wasn't there, I wouldn't be here" Mentors and professors can provide unplanned opportunities, such as job offers and valuable networks, "Stay in touch with those who matter to you and pursue what you're passionate about."
Froehlich acknowledges the importance of building and breaking habits. He urges people to adopt meaningful habits that yield positive results and warns against harmful ones. Though overcoming bad habits may be challenging, it's worthwhile. The band also emphasizes positive reinforcement.
The band shared meaningful thoughts on their music's impact. Isola hopes to help their listeners not "feel alone." He acknowledges that while most people may not be as happy as the band, alleviating loneliness can help improve people's lives.
Froehlich adds "There's always something to look forward to no matter what's going on…. regardless if it's tomorrow, next week, or next year" while their music embodies this message of hope. Phillips admits The 502's music acts as a superpower that grants "permission to be happy." Their music provides a temporary escape from life's worries and reminds listeners of life's positives.
The band explained the origin of their slogan "the happiest band on Earth." Isola mentioned that someone had tagged them in it and the band decided to embrace it. Capati emphasized their dedication to fans, valuing their social media feedback and reciprocating their fans' support. He then advised to "show up for the people that show up for you." Later, during the concert, the band clarified the slogan's origin, linking it to the ongoing conversation.
When asked about their vision for the next decade, Capati responded, "Probably doing the same thing. I would be playing and enjoying the show with the boys and Gracie on stage. It's special, it's fun, and you can't take that away." Froehlich chimed in with "Madison Square Garden" and eventually, the band established their dream as "Filthy rich on an island but still having fun playing together."
As the interview concluded, Tonner expressed the band's love for Philadelphia and the Northeast, mentioning how their first tour outside of Florida led them to New York City, "For whatever reason, this region has always been really good to us." The band cherishes their unforgettable show at Philadelphia's Theater of Living Arts, their second biggest in America and the night Phillips joined the band.