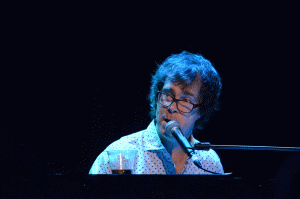 Singer-songwriter, composer and multi-instrumentalist Ben Folds played South Street's Theatre of Living Arts May 11 as the first show of a three-night-long Philadelphia residency. Playing alongside his most recent collaborators, the New York-based classical ensemble yMusic, Folds and company delivered a fantastic performance that concert-goers won't soon forget.
Folds has built a loyal fan following after his time with Ben Folds Five and as a successful solo act. Working with yMusic is not Folds' first foray with classically trained musicians, as he has collaborated with orchestras (including the Philadelphia Orchestra) in past years. Together, Folds and yMusic have created an album called "So There," which is slated for a September release.
Set up behind a small upright piano instead of his usual baby grand, Folds sat at the back center of the stage with three members of yMusic fanned out to either side of him. A drummer was also tucked away in the back corner of the stage.
The concert started promptly as yMusic came on stage and began playing an intricate instrumental number. As someone who hasn't had too much exposure to classical music, this opening song was a real delight to hear. After it was over, Folds came out to a thunderous roar of applause from the near-capacity TLA crowd.
The next few songs were off "So There" and featured some beautiful arrangements. The lyrics of several of the songs off the unreleased album showed that Folds may be channeling the storytelling nature of one of his previous collaborators, author Nick Hornby. It's a bit tough to enjoy songs that you had no way of hearing before, but they (and the other album tracks to come) sounded great. Be sure to keep an eye out for the album's release in September.
Bantering with the crowd has long been a staple of Folds' act, and it always creates a fun atmosphere. It was maybe four songs in before someone yelled out "Rock this b-tch!" (a call for an improvisational bit) that has been well-documented throughout the years. Folds took it in stride and began orchestrating his fellow musicians with the confidence of an orchestra conductor. After only a minute or two, Folds had created a song that wouldn't have been out of place in the soundtrack of some spy thriller movie. After the song's conclusion, Folds suggested a game to the crowd: Yell, "b-tch" every time he takes a sip of his drink. Those in attendance eagerly latched on to the idea and kept the gag running for the rest of the night.
Besides tracks from "So There," older songs from Folds' catalogue took on a unique sound with yMusic's accompaniment. Ben Folds Five songs such as "Mess," "Erase Me" and "Steven's Last Night in Town" delighted fans who were excited to hear something familiar. "Effington" and "Jesusland" also hit their target. After playing "You Don't Know Me" with flutist Alex Sopp on vocals, everyone left the stage and the crowd began their accustomed demand for an encore.
Returning to his piano alone, Folds sat there as people yelled request after request at him, all glancing right off him. He still delivered three outstanding tracks that any good Folds fan would cherish, "Philosophy," "Alice Childress" and "Evaporated." All are fair to classify as chill-inducing but the latter particularly so. No one wanted Folds' solo section to end but alas, yMusic made their way back to the stage to play stirring renditions of "Anne Waits" and the classic "Army."
Ben Folds and yMusic put on quite a show, one unlike most every concert you'll see these days. Although it is a bit weird to hear songs live that you won't be able to hear again for months, the performance was still fantastic. Hopefully you got a chance to see one of the three shows Folds and company put on in Philly, but if not, surely they'll come through town again upon the release of the new album.