The regional second annual East Coast Beard and Mustache Competition, hosted by the Philadelphia Beard and Mustache Club, took place March 30 at the Theater of Living Arts on South Street from 8 p.m.to midnight. There were about 150 competitors along with approximately 800 audience members, all of whom were packed in the TLA in order to see the many different categories of facial hair on display.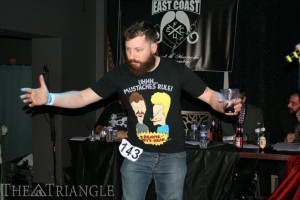 The competition was split into several categories such as styled mustache, chops, goatee, W.T.F. beards (men who can't grow facial hair too well), beards over 12 inches long, and many more. Judging appeared to be based upon three things. The first was bribing the judges with alcohol or food offerings, although food did not work as well as alcohol. The second and third criteria were the actual facial hair or representation of fake facial hair and how the crowd reacted to the competitor's facial hair.
What stuck out most to my friends and me at this event were the mustaches and chops. The mustaches ranged from the Salvador Dali "'stache" to mustaches that had many intricate tendrils of hair stiffened with gel in order to create loops. The person with the best chops looked like Yosemite Sam from "Looney Tunes." The crowd had an extremely good time at the competition, and I honestly can say that I cannot wait for next year's event.
The first world championship for showing off facial hair as we do today started in 1990 in Hofen an der Enz, Germany. Since then the World Beard and Mustache Championships have been held every two years. It was not until 2009 that an American was finally able to beat the German competitors who had won as overall champions since 1990. Today there is a beard and mustache competition held at the national level in the U.S. along with many smaller regional competitions.
One of the goals of this competition was to raise money for a Philadelphia organization called Operation Ava, an animal shelter whose main goal is to prevent dogs and cats from being euthanized. You can help Operation Ava by volunteering at their shelter, which is located at 860-863 N. 3rd St., or by fostering an animal.
If you wish to show off your facial hair or lack thereof, the Philadelphia Beard and Mustache Club holds meetings every third Sunday of the month at Tattoo Mom's on South Street. The club's meetings are free, and everyone is welcome to attend them as long as you have an appreciation for good facial hair.