Based on the classic Hasbro board game, "Battleship" hit theaters May 18 in an action-packed tribute to the U.S. Armed Forces. Being a fan of cheesy, big-budget summer action movies, I think it's a shame that the film is destined to be hopelessly overshadowed by Marvel's "The Avengers," which is about to enter its fourth week on top at the box office. Though it doesn't hold a candle to its superhero counterpart, "Battleship" is worth the trip if you're into aliens and impressive special effects.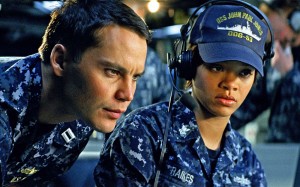 The film follows the story of Alex Hopper (Taylor Kitsch), a typical delinquent misfit whose upstanding older brother (Alexander Skarsgard) pushes him into joining the Navy. Hopper quickly rises to the rank of lieutenant and says goodbye to his girlfriend, Sam (Brooklyn Decker), before heading out to the Pacific Ocean for a series of naval war exercises. Trouble brews as a NASA program aimed at contacting an Earthlike planet in deep space alerts the Navy of the imminent arrival of four alien vessels that go on to land in the Pacific. The fleet quickly enters an all-out battle for Earth, and Hopper and his crew become the unlikely heroes.
While the film starts off slowly, "Battleship" is action-packed and full of spectacular visual effects. The plot is nothing new, and you can probably guess the gist of it from the previews, but the animations are so distracting that the weak storyline is easy to forget. Though they easily could have become cliche, elements of the board game were subtly integrated into the story without becoming overbearing.
The entire film revolves around the extraterrestrial assault on Earth, though it's never made quite clear why Earth is being attacked. I could have done without the aliens, but I guess the good guys needed to shoot at something.
A favorite moment of mine is when the crew takes over the USS Missouri, an out-of-commission battleship, with the help of some old-school Vietnam War veterans. The film is definitely a shout-out to the American military and even features real-life military personnel, including Col. Gregory D. Gadson as double-amputee veteran Lt. Col. Mick Canales.
Kitsch and Decker give nice but uninspired performances in their lead roles, though the lack of time spent on character development could be partially to blame. Liam Neeson is the film's predictable acting highlight in his portrayal of Adm. Shane. He is, however, featured in very few scenes and could have been used to create a much larger draw for the film.
While I normally despise artists who decide they can switch media at the drop of a hat, I actually didn't hate Rihanna's portrayal of Gunner's Mate 2nd Class Cora Raikes. Though she is certainly no actress, there is an edge to her that allows her to keep up with the men without forcing a female presence. I also appreciate that she chose to break into film in a manageable supporting role and that the writers didn't make her sing at any point in the movie.
Though I feel like "Battleship" has more negative aspects than positive ones, I still found it an enjoyable experience. While it may contain weak plot and character development and will certainly not be an Oscar contender, you have to enjoy "Battleship" for what it is: two hours of aliens being blown up by guys in big ships.