I was lucky enough to attend Philadelphia's 18th annual Bastille Day Block Party June 14, sponsored by London Grill and Wine Bar. The all-weekend event was held at Eastern State Penitentiary.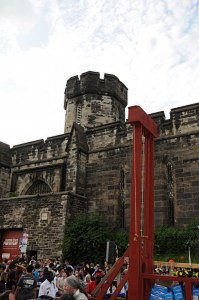 We walked into a large crowd of excited people standing next to the large, castlelike doors of the prison. Lining the brick walls, thousands of people danced to the sound of their own minds rattling around in their beer-driven heads. Once we got past the old-fashioned drunkards and their appropriately clothed beer maids, we made it to the big stage where the show began.
The stage was bigger then we imagined and was filled with medieval princes and princesses doing a classic kick line to the sounds of madrigals and screams.
We decided to leave the festivities and head to our destination at the restaurant. Seated among re-enactors and wine connoisseurs, we realized the night had truly only just begun. We were given some classic rose wine courtesy of Wine Bar restaurant. The wine was sweet but had a bitter, robust taste, making it more enjoyable. It was a classic taste to pair to any gourmet dinner.
For starters, we ordered an ahi tuna appetizer. The dish was paired with cucumber relish, chili pepper, and a wasabi spread of ginger and spice, which was a complete knockout. A small hint of cucumber made the ahi tuna dish more refreshing, and the dish was concluded with a smack of hot spice.
The next dish we got was a classic French cheese board. In order to fully experience London Grill and Bastille Day, we thought that a dish with a lot of variety would be a prime choice. The platter displayed three cheeses: a sweet, creamy goat; a spicy Gruyere; and a strong, rich bleu cheese. The cheeses were paired with crisp toasted biscotti and two types of marmalades: one of apple and another of peach and meringue.
The food was as good as any gourmet restaurant in Center City, yet it added a new charm. Its European style really stood out as unique compared to anything I have seen in Philadelphia. The night wasn't complete without a true classic dish, so we both ordered the hand-battered fish and chips combo, which stood out as the famous London fish we all know and love.
Lastly, we were served homemade vanilla cannoli, ending the evening on a perfectly sweet note. If you are looking for a great restaurant to take your friends to, leading to a night of delicious food, some awesome drinks and some unique entertainment, then London Grill is for you! The 18th annual Bastille Day Block Party was the perfect culmination of French traditions and the ultimate way to celebrate the storming of the Bastille.