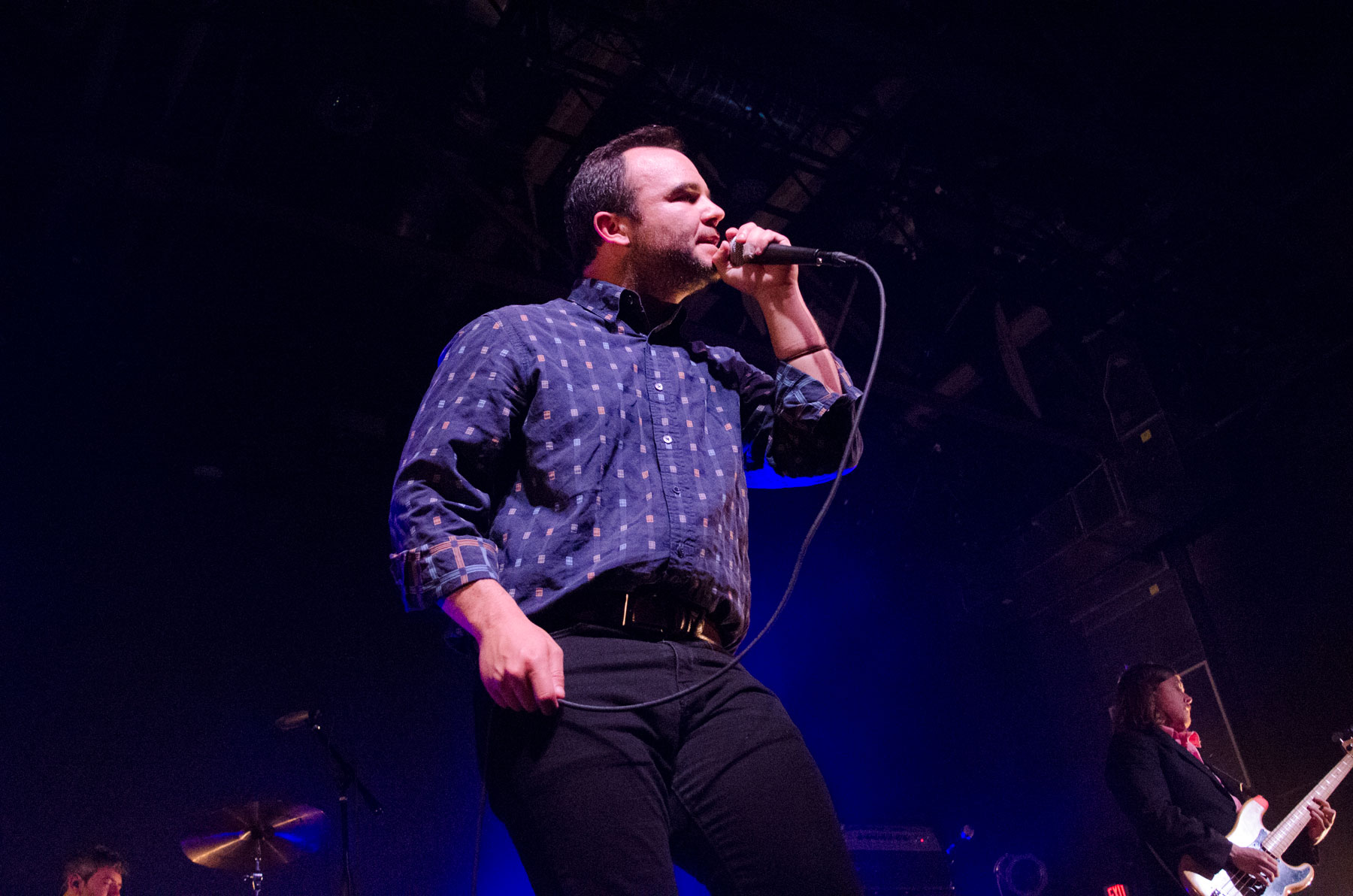 Baltimore-based synthpop band Future Islands came to Philly to play to a jam-packed Fillmore. Touring in support of their latest album "The Far Field," Future Islands put on an energetic performance that had die-hard fans loving each and every minute of it.
After an opening set by Zack Mexico, Sam Herring (vocals), Will Cashion (bass), Gerrit Welmers (keyboards) and Michael Lowry (drums) took to the stage. Future Islands didn't get onto my radar until their (now legendary) performance on "The Late Show with David Letterman." I imagine that this was the case for many current fans of the band. The "Singles" album really connected with me, much more than "The Far Field," but I thought it silly to miss an opportunity to see Herring in action. He may just be the most captivating front man in music today.
Over the course of Future Islands 20 or so songs, Herring put on an incredible performance. As far as I'm concerned, he is the beating heart of Future Islands. During each and every song it is damn near impossible to take your eyes off of the man.
Herring dances across the stage, crouching down low before standing up, hand outstretched, singing lyrics like he is delivering a soliloquy in a Shakespeare play. One look into his eyes and you can see how much he cares about his every utterance. It's nice to see that sort of gravitas when a lot of singers phone it in during a long tour. There's a bit of a Dr. Jekyll and Mr. Hyde nature to Herring's vocal style. He'll be crooning through a song and then suddenly deliver a few words in some demonic tongue before slipping right back into croon mode. It's almost like seeing flashes of a heavy metal concert or something. Each mid-song dance break rouses the crowd to applause, rightfully so. It's a much better response than when I break out similar moves in da club. Herring sweat through his shirt before the concert was 15 minutes old. The man is out there putting in work.
Outside of "Seasons (Waiting on You)" a couple of tracks really stood out. There was the great synth line of "A Dream of You and Me." "North Star" is probably my favorite track from "The Far Field" and it did not disappoint live. "Spirit" brought the house down as the last song before the encore. I was surprised how much moshing ensued as the concert came to a close. Herring and company were whipping the folks into a frenzy before closing with the softer track "Little Dreamer."
Future Islands puts on a heck of show, mainly due to the human dynamo that is Sam Herring. While blocks of their songs can meld together in concert, when the hits come Future Islands is hard to beat. Don't miss an opportunity to see them in action.