Drexel has a very "vocal" group on campus that is not always heard! It is Drexel's Chamber Singers, a select group of performers who showcase a wide vocal singing range. Led year-round by Steven Powell of the Antoinette Westphal College of Media Arts & Design, the choir performs songs called madrigals. Powell describes this form of music as "the original type of vocal chamber music for small groups of singers rather than large choirs." The Chamber Singers perform madrigals in English or Italian, and French pieces called chansons.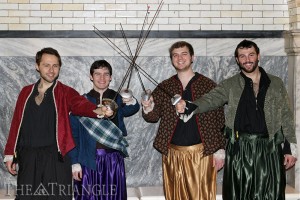 Powell conducts an annual Madrigal Dinner at the end of every February. The event captures all of the magic of an English Renaissance fair in one entertaining evening, featuring a king and queen, jesters, jugglers, sword fighters, singers, storytellers and musicians. According to Powell, the dinners "integrate food, script, movement, instrumental and vocal music, and factual history" in a unique way. The 16th-century English play, or scripted portion of the evening, is performed between dinner feast courses, and the courses are, for the most part, Renaissance themed.
I have had the pleasure of attending a past Madrigal Dinner in the Great Court of Main Building. Highlights of the event were the presentation of a boar's head preceding the procession of courses, a juggler performing during the meal, and the Chamber Singers singing mainly in English, but also a few songs in Italian, French and German.
The lords and ladies of Drexel's Chamber Singers impersonate 16th-century Elizabethan characters. "A lot of the dialogue is based on the actual relations between the countries of the time period … and the British were not exactly fans of Spain," Joshua Cohen, the junior studying civil engineering playing Lord Blaine, said. This year's 24th annual Madrigal Dinner will be held Friday, Feb. 21 and Saturday, Feb. 22, at 7:30 p.m. For more information, visit http://madrigal.westphal.drexel.edu.