For the end of my first year at Drexel, two of my friends and I decided to go out. We wanted to celebrate our triumph of surviving freshman year in addition to saying goodbye before the three of us separated and spent our summer holiday in different states. Therefore, we opted to try a restaurant that none of us had eaten at before. We took a risk and selected Amada. By the end of our dinner, we had no regrets.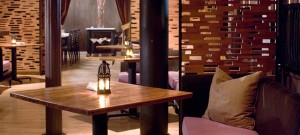 Amada is situated in the neighborhood of Old City, located at 217-219 Chestnut St. Iron Chef Jose Garces opened the restaurant in 2005, and it was the first of now over a dozen eateries run by the renowned Latin-American chef.
Amada is open daily for lunch and dinner, and brunch is offered on the weekends. Caution, though — the lunch menu is limited. To ensure a minimal wait time, you should call ahead or book a table online through Open Table before arriving at the popular restaurant.
Before you choose Amada, you should be informed of several details. To begin, you will be eating Spanish tapas. With tapas, you are able to taste a larger variety of foods served in small portions to share. The menu is filled with over 60 Andalusian tapas and an extensive bevy of cocktails, sangrias, wines and beers.
Amada demonstrates a "rustic chic" style with both traditional Spanish and modern touches. The rustic-looking furniture, aged black cabinetry lining the walls and dimmed lights create a comfortable ambience. Decorations like authentic Spanish plates, sangria barrels and wine barrels top off the overall style of the place. There is also a state-of-the-art kitchen that opens up to the guests and allows a view of the chefs in action.
There is both a bar and dining area, which together can accommodate approximately 150 guests. Small black lanterns sit on each table for an intimate and cozy feeling. In addition, there are flamenco dancers who perform on specific days to enhance the Spanish-style dining experience.
I began my dinner with an order of jamon serrano (thinly sliced cured meat), aged manchego and truffled lavender honey. My friends and I then split a traditional tapas plate known as chipirones  fritas, or fried baby squid. After the short wait, our first round of food came out. We instantaneously devoured the tapas.
We proceeded with cocas, Spanish flatbreads. We ate the alcachofas y setas flatbread that included artichoke, wild mushrooms, black truffles and manchego. For those who are vegetarian, there is a verduras (vegetarian) section of the menu that offers meatless tapas. Afterward, we tasted lamb chops, filet mignon, and Madre e Hijo (chicken breast, fried egg, mojama and truffles). Additionally, there are a number of other tapas options: a la plancha (from the grill), pescados (fish) and carnes (meats).
After all that food, the three of us were still determined to try some of the desserts. The pastel de chocolate (chocolate cake) and bunuelos (doughnuts) were both decadently delicious. The chocolate cake was topped with caramel sauce and accompanied by banana ice cream, and the doughnuts were filled with a salted caramel pastry cream, pine nuts and orange sherbet. It was a perfect way to end the meal.
The tapas are priced inexpensively, but if you buy many tapas it will add up. However, it is unquestionably worth it. You will not regret dining at Amada, which is Spanish for "beloved" or "loved one." Appropriately, my fellow diners and I loved all aspects of Amada.