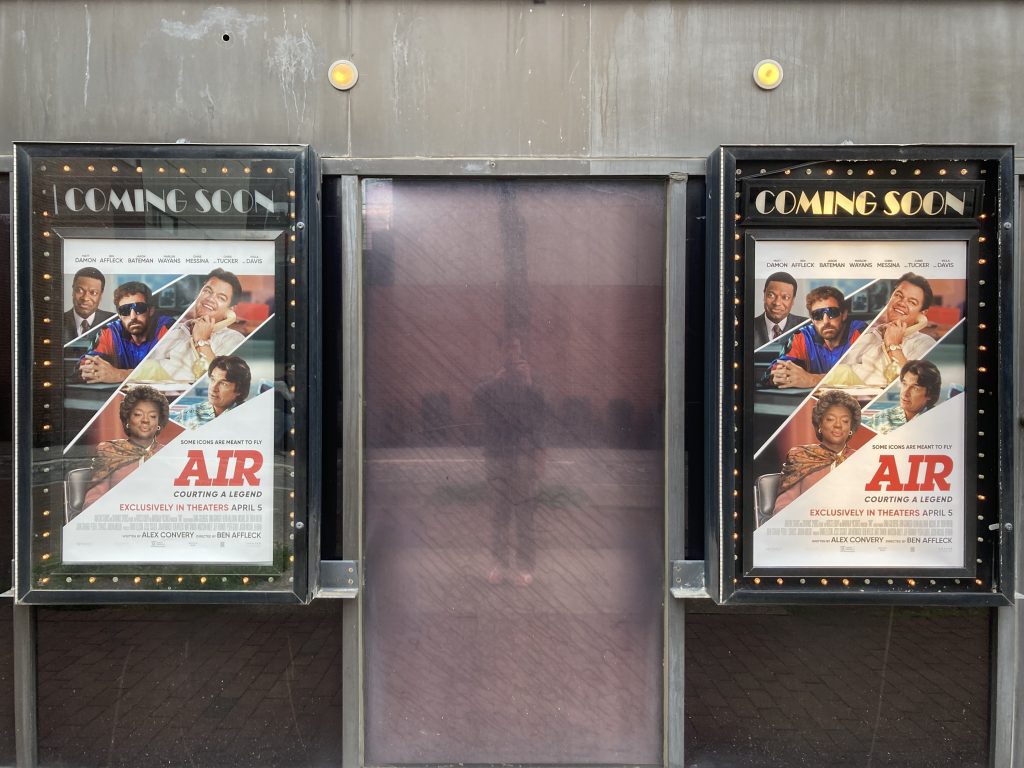 I had the opportunity to see the new movie "AIR" on Monday, April 3 at the PFS East Theatre in Old City. This movie was directed by Ben Affleck, written by Alex Convery, produced by Artists Equity and Mandalay Pictures, and distributed by Amazon Studios and Skydance Sports. 
As someone who has covered music and only music for The Triangle so far, I took this opportunity to cover this movie mostly based on my interests in sneakers and basketball. If you are looking for a highly technical review of this movie and the actors in it, I do not have the expertise needed to give you that. However, if you are an everyday person who takes interest in this movie's subject matter and you want to know if "AIR" is worth a theater visit or stream, then continue reading!
This movie is focused on the Nike Basketball department, mainly recruiter Sonny Vaccaro (Matt Damon), and his quest to sign the third pick in the 1984 NBA draft, Michael Jordan. In case you are not familiar with basketball, Michael Jordan went on to be by far the most famous player in NBA history, and debatably the greatest player of all time. 
The movie took place mostly in the Nike offices located near Beaverton, OR, which is where the brand began and is still headquartered today. The brand was founded by Phil Knight (Ben Affleck) and Bill Bowerman, Knight's former track coach from the University of Oregon. By 1984, Knight was the CEO of the brand. 
At the beginning of the movie, it was apparent that Nike's basketball sector was looking rough, as they were mainly known for their running shoes at the time. The brands Converse (now owned by Nike) and adidas were far ahead in market share of basketball shoes, and also had the biggest names in basketball at the time, such as Larry Bird, Magic Johnson and fellow rookie Hakeem Olajuwon under their contracts. Nike Basketball needed to make a move. 
The character of Vacarro was competitive, knowledgeable, convincing and a bit of a gambler. The majority of the drama and narrative was centered around his talks with other members of the Nike Basketball team and their time in the offices having meetings and business talks. These were portrayed in a compelling way, however at times the dialogue felt exaggerated and quippy. Passionate business talks are not dry conversations in real life, and obviously things will be played up for the sake of entertainment. However, the characters came off a bit too sharp with their witty remarks at times when I just wanted the story to be told realistically. 
The setting of the U.S.A. in 1984 was convincingly depicted, although I am not familiar with the details of this time period nor was I around to witness it myself. While I had heard the names of characters like Vacarro, Knight and the Jordans, it was slightly difficult to remember each character's role at Nike throughout the movie. However, most of the time their specific titles didn't matter too much as their parts in the story played out. 
One specifically memorable chunk of the story took place early in the second half of the film, when Vacarro, Knight, Nike Basketball's director of marketing Rob Strasser (Jason Bateman) and Nike Field Representative Howard White (Chris Tucker) worked for several days straight in the offices to create a pitch for Jordan's meeting with Nike. This included meeting with Nike shoe designer Peter Moore (Matthew Maher) in the eerie, glowing design lab and collectively brainstorming the first model and name of the Air Jordan shoe. The multiple "aha" moments in this scene were very entertaining and well-paced, and seeing a classic shoe such as the Air Jordan 1 sketched out was exciting knowing the impact that shoe would have on sneaker culture forever. 
An interesting choice that was made during this movie was to never directly show the face of Michael Jordan (Damien Delano Young), and only feature clips of Jordan's face in real life through highlights. It made sense to avoid casting an actor in place of Jordan since he is such a recognizable person in comparison to the Nike team members, however this could also be interpreted as a representation of how little the story was actually focused on Jordan himself. 
The movie was heavily focused on Nike and its dependency on Jordan to represent their brand. If you are going into this movie looking to see a story centered around the game of basketball being played, you will be disappointed. The main characters of "AIR" are the Nike Basketball business team, and the conflict of the story is their pursuit of the Jordan family's agreement.
Also, it is odd to go into a movie knowing the outcome of the main story. It is hard to actually spoil "AIR" even to people who do not know much about Jordan or Nike, considering how well-known the Jordan Brand is. Since the movie is on a niche subject, it is assumed that the viewer already knows that Jordan signed with Nike and not adidas if they choose to see this movie.
"AIR" is a compelling and entertaining watch for anyone like me who likes the sport and cares at all about sneakers and clothing brands. If you know nothing about these topics, it is more likely that you may find this movie to be uninteresting. However, if you are open to learning a lot and following a low-action story, you are in for a thrilling watch that could leave you with a new and expensive hobby if you dive into the Air Jordan rabbit hole afterward.