It was a cool and breezy evening at The Great Plaza Saturday, August 6. The weather was only flattery for a riverside event such as this year's African Festival sponsored by The African Cultural Alliance of North America. At the event, Africans from varied countries browsed unique vendor stands, listened to music and dance performances and enjoyed an evening together in celebration of deep cultural roots.
The stadium at The Great Plaza was full of spectators, so I was surprised that I had no trouble finding parking on the street. Some men and women were dressed in traditional clothing; some women wore traditional face paint. Children were able to have their faces painted as an activity. Some kids opted for the traditional, while others went with a more contemporary, superhero look – a full red face and black webbing as Spiderman, for example.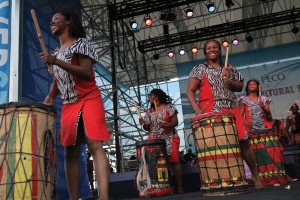 Live performances included Black Diamond, Kulu Mele, Sister Rose, Rafiya, Rotimi & De Afrophonik Crew, Jay-Q, Do For Brook, Coda and Dance Troupe. Dance Troupe is a cultural troupe with a funky drumming crew and dancers. From this troupe, we saw and heard The Echoes of Liberia, a performance that opened with percussion and ended with a celebratory dance with four young ladies in traditional scarves and face paint.
At every break in between acts, the hosts pulled a ticket from a raffle full of names of audience members who chose to participate. Coffee makers, irons and other household items were given away as door prizes. For a free event, this concert was enough of a gift, but the door prizes added even more to that spirit of generosity. Audience members had the opportunity to donate to The African Cultural Alliance of North America, the organization who funded the event, by buying a ticket for the 50/50 raffle. Tickets cost $1 and a lucky audience member had the chance of winning 50 percent of the collection money at the end of the day if their ticket was pulled.
After listening to a performance by African actress and singer Constance Orji, the concert broke for vendors benefit. During this 10-minute break I browsed vender tables. They sold jewelry, clothing, hair and skin products and other accessories with African influences. I couldn't help but buy a pair of bright yellow wooden earrings.
Many sponsors helped make this possible, including the African American Museum of Philadelphia, councilwoman Jannie Blackwell, The Liberian United Women in Progress, the Welcoming Center, FunTimes Magazine, Chester Avenue Business Association, the Mayor's Commission on African and Caribbean Immigrant Affairs, Sunoco, Brown's Family Shop Right, Cozen O'Connor and the Department of Behavioral Health and Intellectual Disability Services.
Ivan Henderson from The African American Museum in Philadelphia shared that he was grateful to be a part of this event.
"We are not only bridging the gap between distances, between countries, but also as an African American, I don't really know myself until I get to know a little bit more about African culture," Henderson said. "So as I learn about you, I'm learning about myself. I am eternally grateful to be involved."
I also hope that this event continues, and I recommend this event as a family activity. Both kids and adults can take away a dose of culture and community, hopefully bridging gaps within both.