At the end of 2011, before ever releasing a mixtape, A$AP Rocky signed a $3 million record deal with RCA and Polo Grounds Music. Just weeks later, on Halloween, Rocky unleashed his impressive mixtape, "Live.Love.A$AP," and instantly became one of the next rising stars in hip-hop. After touring off of that mixtape again to hype up his first studio release, Rocky continued his growth as his popularity continued to increase.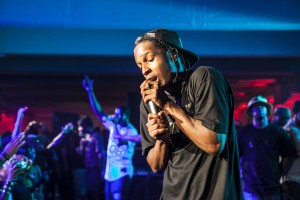 Rocky released his debut album, "Long.Live.A$AP," Jan. 15, which had leaked unprecedentedly early on the Internet in the middle of December. The album, which includes the hit single "F—in' Problems," featuring Kendrick Lamar, Drake and 2 Chainz, is a continuation of the unique sound that A$AP Rocky created with his debut mixtape.
"Long.Live.A$AP" opens with the title track, featuring production from Jim Jonsin and Rico Love. Rocky awkwardly sings on the hook but delivers strong raps over the eerie, hard-hitting beat to begin the album. Then comes the Hit-Boy produced "Goldie," which was released as the album's first single over the summer. While it is still a strong track, I was surprised to see it make the album after failing to create the buzz that Rocky and RCA had hoped for. This was a large part of the reason that the album was pushed back multiple times from its original fall release dates to January.
A$AP Rocky and ScHoolboy Q have linked up two times in the past, and even though their third collaboration sounds very similar to the previous tracks, "PMW (All I Really Need)" is one of the better songs on the album. This is followed up by "Lvl," produced by Clams Casino, a reminder of the sound these two created on a number of tracks on "Live.Love.A$AP."
If you respect my opinion enough, there are two songs that I highly recommend you skip on this album, and "Hell" featuring Santigold is one of them. Many of you will probably also want to skip "Pain," but in my opinion, Rocky's singing is bearable only because of the pleasing production underneath him. After a few weaker songs, Rocky drops "F—in' Problems," which still is and probably always will be a jam for the ages. However, it is easy to forget about Rocky because of 2 Chainz's emphatic chorus; a great verse from Kendrick Lamar; and Drake's typical, dominant feature verse outshined him.
In an odd collaboration, Rocky teams up with dubstep producer Skrillex for "Wild For The Night," which has the most radio potential of any song left on the album. This party anthem is followed up with "1 Train," one of the most anticipated tracks on "Long.Live.A$AP." "1 Train" features Kendrick Lamar, Joey Bada$$, Yelawolf, Danny Brown, Action Bronson and Big K.R.I.T. The star of this track is Action Bronson, with lines such as "The face is silky like a tablecloth, my shorty galloping, I'm on a northern beach like a Chilean horse."
Remember earlier how I mentioned two songs that you should skip? Well "Fashion Killa" is the second track. If you do listen to it, the awful hook will get caught in your head, and you'll be really mad at yourself for the next few weeks as you walk around singing it to yourself on campus, so I recommend you don't even let the song start.
As the album comes to a close, Rocky teams up with Danger Mouse (one half of Gnarls Barkley) on "Phoenix" before ending his debut with "Suddenly," which in my opinion is the best song on the album next to "F—in' Problems." The first half of the track is a relatively quiet sample on loop before letting the beat drop and unleashing a much more up-tempo flow to bring the album to a close.
Overall, "Long.Live.A$AP" is a little disappointing. After a year of hype and high expectations, A$AP Rocky delivers a mix of songs that often don't fit together, including a few very forgettable moments. Fortunately, "F—in' Problems" is still a radio hit, and I'm sure this album will produce one more. Now, all that's left to see is how much of an impact the month-early album leak will have on the sales of Rocky's debut album.