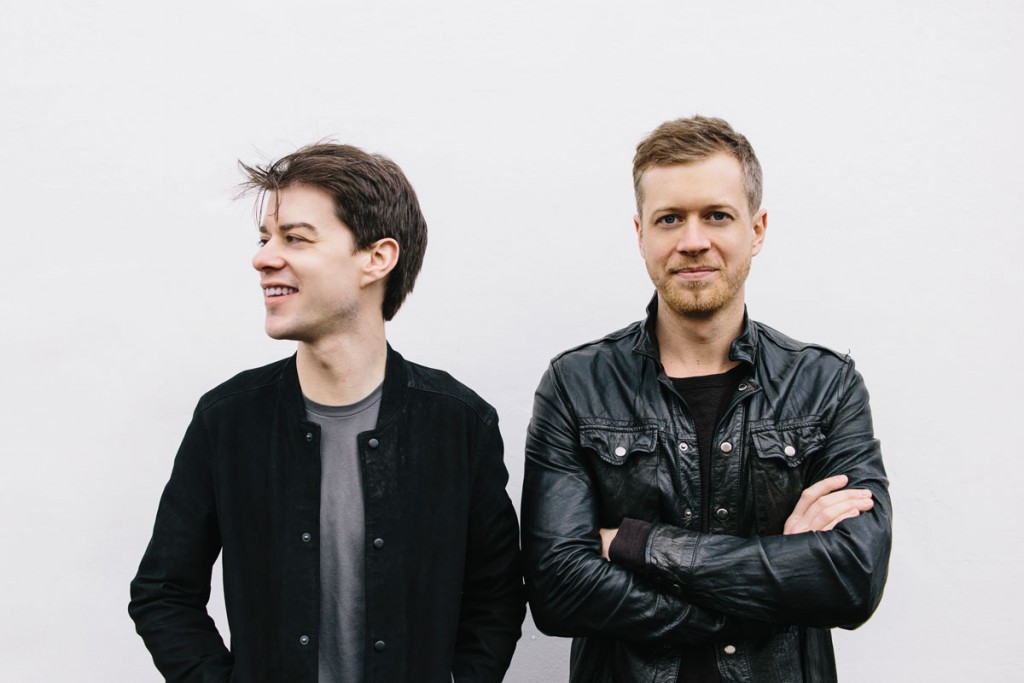 Passing by Union Transfer on the evening of Nov. 2, you would probably have no idea who the varied group of concertgoers were lined up to see. It was certainly a strange cross-section of people, ranging from preteens to middle-aged women and everyone in between.
Presented by Radio 104.5, English alt-rock duo A Silent Film headlined a show in support of their eponymous new album. Their sound is piano rock with an electronic edge, very much in the same vein as fellow British alternative bands such as Snow Patrol and Coldplay.
After a lively performance by opening act Flagship, A Silent Film took the stage. The duo performed alongside three backing musicians to achieve the full sound they showcase on their albums. Lead singer and multi-instrumentalist Robert Stevenson did not hesitate to bust out the dance moves— and the audience loved it. Teenage girls and moms alike couldn't help but gaze admiringly at Stevenson, whose good looks and charming personality were topped off by his beautiful singing voice.
The band opened up with the anthemic fan favorite "Tomorrow" off their recent "New Year EP," before diving into material from their new album, "A Silent Film." Released only a few weeks ago on Oct. 16, the album features a more powerful, mature sound compared to their older work. They played a total of seven tracks off the new album; each was better than the next.
When they played some of their older hits such as "Driven By A Beating Heart," "Anastasia" and "Danny, Dakota & the Wishing Well," the crowd went absolutely berserk. The most spectacular part of the performance, however, was when they played their biggest hit, "You Will Leave A Mark." The song is largely considered be the band's best song and they definitely knew how to milk it. It typically starts out with a few bars of piano chords, but this time it was accentuated with loud cymbal crashes and guitar chords. The energy during the song was insane— every single fan in the audience was dancing and singing along to every word. "You Will Leave A Mark" is one of those songs that gives me chills every time I listen to it, and to hear such a powerful live performance of it was almost cathartic.
For their encore, Stevenson came back onstage alone and played an old song, "Lamplight," on the piano. He dedicated the song to his loyal fanbase, who dubbed themselves "the lamplighters" in reference to that very song. Afterwards, the full band joined him onstage for two more songs. They finished out the encore with their hit single "Harbour Lights" from their critically acclaimed sophomore release, "Sand and Snow."
After the show, Robert Stevenson and drummer Spencer Walker stuck around to greet their fans in the lobby of the venue. They seemed exhausted, but eager to meet every adoring fan left in the venue.
As always, Union Transfer provided an excellent concert setting. It's one of my favorite venues in the area not only because of its amazing acoustics but also its intimate nature and friendly staff. The venue makes a great home to any act that comes through Philadelphia— everything from singer-songwriters to heavy metal. It's pretty easily accessible through subway; I highly recommend adding it to your to-do list.
The best part about A Silent Film was that they were able to harness the emotion and energy of their studio recordings and translate it onto the stage. It was a truly immersive experience. After explaining to my friends that I was at a concert and not seeing an actual silent film, I recommended that they look up A Silent Film, because their catchy melodies and lyrical depth are sure to garner the attention of any alternative rock fan.