The Cleftomaniacs, Drexel's co-ed a cappella group, held winter concerts March 7 and 8 in the Stein Auditorium in support of Save A Child's Heart, a foundation that treats children with heart disease from developing nations.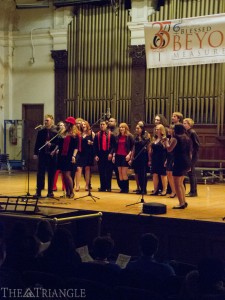 Based in Israel, SACH is a humanitarian project that is dedicated to the belief that all children — especially those suffering from heart disease — have the right to get medical treatment. The Cleftomaniacs teamed up with Dragons for Israel, the Drexel University Pagan Alliance and Alpha Epsilon Pi in order to put on this event. In addition to the Cleftomaniacs, the concert featured Drexel's respective male and female a cappella groups: 8 to the Bar and the Treblemakers.
The Cleftomaniacs are a brand-new a cappella group on campus. The club was organized this past fall term by the group's president, Katie LaVoie, and secretary Tori Tielebein.
The Cleftomaniacs had a strong performance with popular songs that the audience could both relate to and appreciate. LaVoie impressed with her performance of "The Call" by Regina Spektor. She also harmonized with senior Arlene Pereira in a performance of "Rhythm of Love" by the Plain White T's.
Freshman Nik Vasquez claimed that the song "Everything" by Michael Buble was the most fun to perform due to its charming nature. One of the most notable performances of the night was a cover of  Gorillaz' "Feel Good Inc." The booming voices of Mike DeMaria, Ben Anderson and Gabe Robitaille were on par with the original version. Freshman Robitaille, had a booming laugh that both surprised and impressed the crowd.
This benefit concert proved to be a great philanthropic experience. The Cleftomaniacs were able to raise over $500 for SACH by the end of both concerts. In addition to ticket sales, the group also had a bake sale and raffle.
It was a wonderful sight to see all three Drexel a cappella groups unite for SACH."