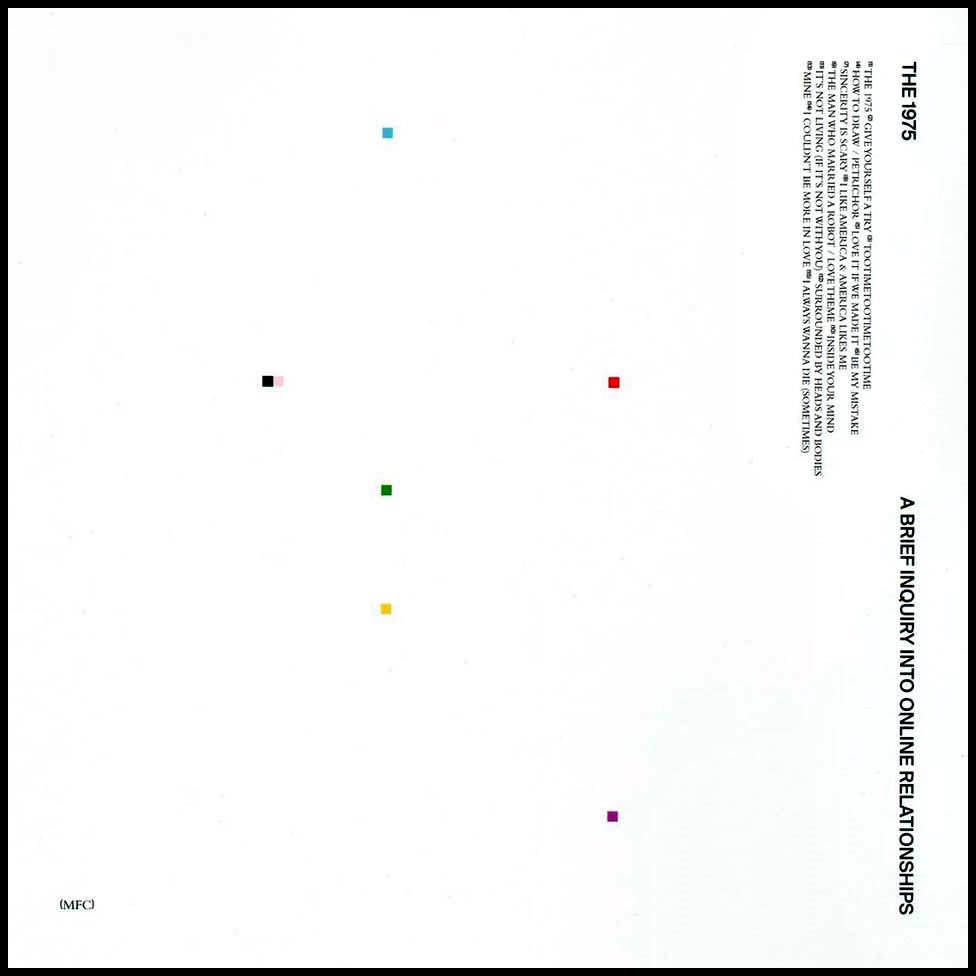 The 1975 seem to evolve with each passing year, and their third full length project marks their latest understanding of the world. "A Brief Inquiry Into Online Relationships" is the first of two works to come from the Manchester-based band, with "Notes On A Conditional Form" set for release in May 2019.
The 1975 are more explicit with their criticisms of society and its absurdity than they have been, and this time they don't hold anything back.
This confidence and composure that The 1975 have, predominantly coming from lead singer Matthew Healy, make them a force to be reckoned with. They couple sharp commentary and poignant warnings of how the world is heading in the wrong direction for its future.
Healy, who stays true to his open and completely honest self, writes not only about how the world is suffering, but also how he has personally struggled. Take the song "Give Yourself A Try" for example.
In the song, Healy discusses how he's finally noticing that he's getting older, and even finding "a grey hair in one of my zoots." Flipping a metaphorical switch, he criticizes the news today with the following line: "Like context in a modern debate, I just took it out."
When a fan of his (named Jane in the song) committed suicide, Healy was afraid to go outside. As Healy reflects on what he would tell his younger self, he continues to stay sarcastic yet truthful, creating a conversational feel to the song while he's explaining how he became a drug addict and trapped by the materialistic world.
Several times before "Give Yourself A Try" was released as their lead single, The 1975 wrote about how going outside and just taking a chance for yourself can be enough to change your happiness. This plea to get away from technology is a chance to see how tied humanity is to our screens.
The song that reaches peak irony regarding technology is "The Man Who Married A Robot / Love Theme," which is a spoken word track recited by Siri chronicling the story of a lonely man who falls in love with the internet. It speaks volumes about how much data and social media can take over someone's life, and how materialism and isolationism are inherently intertwined. We seek constant validation and acceptance for ourselves, and can take the internet almost everywhere.
The most popular song so far — and arguably a modern version of "We Didn't Start the Fire"— "Love It If We Made It" is The 1975's call to arms for the world. It unpacks almost every section of our society, and the theme of the song is that "modernity has failed us."
Healy and The 1975 talk about a multitude of things happening in America: the oppression and marketization of black people and their culture, mass media and falsification of fact, meme culture, youth drug addiction, the refugee crisis, the usage of technology for porn, Colin Kaepernick, Donald Trump's open admittance of sexual assault, Kanye's coin-flip personality and the the style of living in a post-modern society.
With each song comes an entirely different story, a different experience and a different sound. The 1975 self-produce their albums, and they have the freedom to toy around as much as they please.
Albeit an upbeat, club-like pop song, "TOOTIMETOOTIMETOOTIME" focuses on Healy's and society's struggle to maintain a monogamous relationship in the digital age, but also brings into question: "where's the line between infidelity and normal social interaction?"
"Be My Mistake" and "Inside Your Mind" are two ballads that discuss relationships from a conflicted person's perspective. "Be My Mistake" is about the guilt you feel about hooking up with someone when you have real feelings for someone else and knowing that there is no connection. That conclusion was reached too late, and only after a mistake. "Inside Your Mind" looks back on a past relationship, as the narrator wants to, in short, get inside his former lover's mind to see what she was really thinking and feeling.
Tying into that theme is "Sincerity Is Scary," which really speaks for itself. The opposite is true for "I Like America & America Likes Me," where Healy expresses his fears of America's gun laws and how it's time to listen to the voices crying out for change.
The 1975 have bottled up everything about society in 2018 — especially encapsulating everything wrong — into a work of art. "A Brief Inquiry Into Online Relationships" should be listened to by just about everyone, and the messages that can be taken away should stay with the listener for a long time.