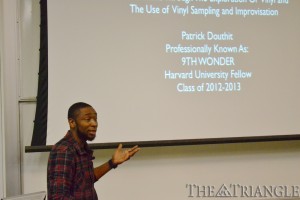 Hip-hop and education are two things that rarely go hand-in-hand. A large part of that is because the majority of rappers never went to college. The other reason is that hip-hop is still not fully accepted in the mainstream and is still some distance away from getting there. However, there is hope, courtesy of hip-hop producer 9th Wonder, who gave a lecture Feb. 21 at the University of Pennsylvania titled "These Are the Breaks." The lecture ran for 90 minutes, with a 30-minute question-and-answer session after.
For those who aren't familiar with 9th Wonder, allow me to briefly introduce you. He has produced records for Jay-Z, Destiny's Child, Wale and Drake. He represented one-third of the hip-hop trio Little Brother through 2007, when the guys had a disagreement and decided to part ways to embark on new projects. Recently, 9th began teaching about hip-hop at his alma mater, North Carolina Central University, and then was asked to teach a course about sampling at Duke University. Now, 9th Wonder has been given a fellowship at Harvard University and is making his second documentary with director Kenneth Price about that experience. Clearly, in the hip-hop community, 9th Wonder is a legend, and that's why the opportunity to see him give a lecture at Penn was one that I could not turn down.
As the lecture opened, he switched between Serato (a software program for disc jockeys) and PowerPoint, playing songs that he grew up with. He ran through the history of hip-hop dating back to 1973 and led up to present-day artists. During this time, he provided some incredible quotes, such as "Sam Cooke was Trey Songz to [his mother]; every generation has a Trey Songz." He also joked that The Sugarhill Gang, known for its hit single "Rapper's Delight," was "the Spice Girls of hip-hop." The most notable quote from the night came near the end, when 9th Wonder said, "The best music is made when Republicans are in office."
A large portion of the lecture was dedicated to the art of sampling, which 9th Wonder is particularly known for. In hip-hop, producers "sample" a section of an old song and tie it into their beats. Hesaid that sampling enabled "hip-hop [to be] a bridge to reference the past to present." He then began to speak about and show the record collections of legendary producers, including DJ Premier, Pete Rock and even Ahmir "?uestlove" Thompson of The Roots. His name for record collectors was "vinyl archaeologists," and he called the process of finding records "crate digging."
At this time, 9th began to wow the audience by playing the original records that artists such as Jay-Z, Kanye West and even Little Brother had sampled over the years, while sharing unique insights on the process. After the release of Little Brother's album "The Minstrel Show," 9th Wonder, along with emcees Phonte and Big Pooh, sent letters to every artist that 9th sampled on the album to thank them for their contribution to music and their impact on this body of work. 9th even shared some details of working with Jay-Z on "The Black Album."
"When he says your name on a record, it's time to go house shopping," 9th said of Jay's impact. He believes that no other rapper can make a producer somebody, and after working with Jay, 9th's career took off.
Near the end of his lecture, 9th emphasized how music used to connect people in a time and place, and now with the "YOLO generation," everybody is "socially independent." This was one of the key components of the lecture that really stuck to me. The idea of "socially independent" is an oxymoron. However, when you think about our generation and how frequently we're attached to our cell phones, computers, etc., it couldn't be a more accurate description of our everyday lives.
At the end of the lecture, not a single member of the audience remained seated, as 9th received a well-deserved standing ovation. To an avid listener and passionate fan of hip-hop, an event like this is something special. Hip-hop's importance in today's culture is something that should not go unnoticed. It should be celebrated, studied and taught in universities across the country, just as rock and pop music are today. Hopefully, more iconic figures in hip-hop will begin to teach and spread this movement across the country to educate young intellectuals on the art, culture, and impact of hip-hop music.