Asian food is in full throttle in University City — even in the land of food trucks. Ranging from Chinese to Japanese at places such as Le Anh and KoJa, respectively, the possibilities are endless. However, rarely have I seen all types of Asian food wrapped up together — literally.
The new food truck, "Foo Truck," made its first debut at Drexel this past Tuesday, March 6. Located conveniently at 33rd and Arch streets, Foo Truck was easily accessible to a lazy college student unwilling to walk any further than necessary.
According to its Twitter account, Foo Truck advertises itself as "a funky tattooed truck serving up unique Asian eats in Philadelphia," and it is precisely that. Walking along 33rd, it's difficult not to notice the brightly tattooed truck in orange, blue and pink. Priding itself on the Philadelphian nature of the entire operation, the truck was taken to local Philadelphia Eddie's Tattoo parlor for their own version of extreme food truck makeover. Even more surprising, the people working inside the truck did not disappoint after the vibrant exterior.
Upon approaching the truck, I was greeted by the cheerful owner of the truck, George. Previously a real estate agent, George turned to an Asian fusion style of food that appeals to all tastes. Using traditional Asian food as the base, Foo Truck takes Asian fusion to a new level. Starting with traditional white jasmine rice, dishes are put directly on top of the rice and wrapped together in a flour tortilla and grilled on both sides — all priced at $5.
I tried one of the most popular sandwiches on the menu — Foo's Lemongrass Chicken. A traditional Southeast Asian dish, the lemongrass chicken was cooked to perfection. There was just enough flavoring that it was not too sweet or sour, yet it balanced perfectly with the carrot and daikon slaw. A few slices of cucumbers were placed on top to add an extra crunch to the sandwich. For the final touch, the sandwich was topped with peanuts that made it the ultimate Southeast Asian fusion dish to go. As long as you don't have any peanut allergies, the Lemongrass Chicken foowich is definitely a must-try.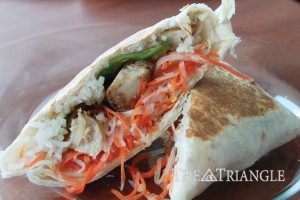 Drexel's newest on-campus food truck, Foo Truck, creates sweet and spicy grilled tortilla wraps with jasmine rice, perfectly cooked poultry and crunchy veggies. Priced at $5, their dishes are delicious, quickly made and affordable.
I also had a taste of Foo's Green Curry Quinoa with roasted vegetables. Eggplant, cauliflower and zucchini were all part of the roasted vegetables that undeniably added to the nutritional value of the meal. The zucchini even added an extra crunch to the fluffy quinoa. Unfortunately, the curry flavor was a little too strong and overpowering for my taste. The curry and garbanzo beans were a tad spicy for those who enjoy zestier dishes.
For dessert, I topped it all off with a moist red velvet cake ball coated in smooth milk chocolate. This was the perfect little snack to end my meal, and it satisfied even my overactive sweet tooth. With the red velvet compacted into a tight ball, the cake was moist and sweet but not overwhelming in conjunction with the milk chocolate.
The best part is that Foo Truck is fast and efficient in serving its food. Foowiches are made and served after about five minutes. Wrapped in foil, you can take it back to your apartment or even eat on the go. For the price and proximity of the foowiches, I'll be sure to return on Thursday to try the other items on the menu.
Foo Truck is located on the corner of 33rd and Arch streets and is open every Tuesday and Thursday from 11 a.m. to 2:30 p.m.