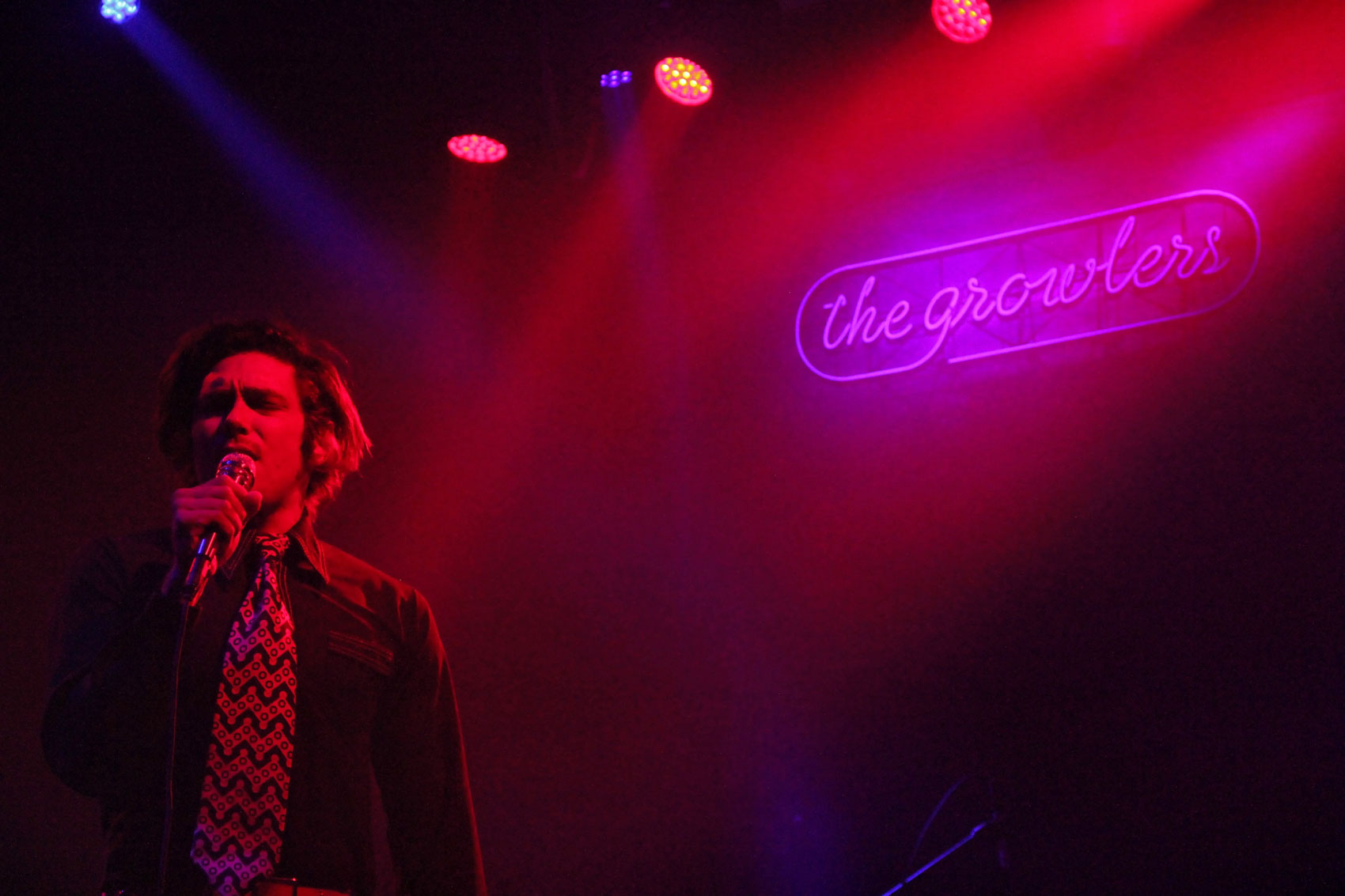 What do you get when you mix ridiculously groovy tunes, a rowdy crowd and five hunks in white tuxedos embellished with floral designs? That's right, a Growlers show. The Californian "beach goth" band known as The Growlers made their way to Union Transfer Sept. 27 while touring in support of their new album, "City Club." This was my first time seeing The Growlers live and the only useful advice I was given before the show was "expect to dance until your legs give out."
To my surprise, the venue was nearly full at 8:30 p.m. sharp regardless of the fact that there was no one to set the stage before The Growlers. A cross section of the crowd painted a wide spectrum of fans from hardcore punks to hippies and even a 60-something-year-old man in front of me sporting a blue blazer with large snowflakes. Soon enough a fluorescent "City Club" sign was lit up which naturally led to unnecessary cheering from the crowd. Around 9:00 p.m. all five members of the band sauntered onto the stage causing everyone to go wild and me to swoon.
The Growlers kicked off the show with one of their most popular songs, "Big Toe," from their album "Chinese Fountain." Based off the crowd's wild reaction within hearing the first few chords of the tune, I'll go ahead and say it was a great choice to open up with. Since the new album was set to be released Sept. 30, it was no surprise they played about half of it that night to give fans a taste of what's to come. Of all the songs on "City Club," "Night Ride" is hands down my favorite thanks to the vivid memory I have of lead singer Brooks Nielsen swinging his hips to it while blessing my ears with his perfectly smoky voice.
Hearing the crowd roar, or growl rather, when the band's signature songs like "One Million Lovers" and "Someday" were played was way more overwhelming than I had anticipated. Throughout the night there were maybe 15 instances of people hopping on stage just to dive back into the crowd before security could get a hold of them. Some fans became fond of the thrill and got up there more than once while others just a single time to kiss Nielsen on the cheek or dance around lead guitarist Matt Taylor. While most seemed to be hypnotized in a dancing trance, there were a few fights and an inevitable mosh pit during the night.
After playing about 20 songs the band thanked all the Philadelphian fans and gracefully made their way off the stage. The crowd cheered, hollered and clapped until The Growlers came back out for an encore. The beach goth rockers played "Gay Thoughts" and "I'll Be Around" before finally ending the night with a fan favorite, "Going Gets Tough."
Overall, I thought The Growlers put on an amazing show. I can't even begin to explain how effortlessly cool each member of this band is. Though there were many songs I didn't know from the new album it was exciting for me to hear considering it was produced by Julian Casablancas and I am quite the Strokes fan. The "City Club" tour will go on until mid-November but the final U.S. show will be this month at The Growlers' very own "Beach Goth Festival." If the chance to see these dudes comes up again I highly recommend going out to see them. Until then, I suggest listening to "City Club" while wearing your favorite shades and a leather jacket to get the full Growlers experience.