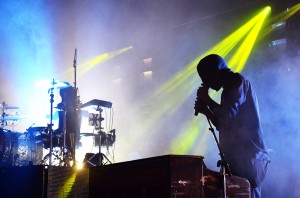 The Columbus, Ohio-based duo Twenty One Pilots played the second of back-to-back sold-out shows Sept. 28 at the storied Tower Theater. The pair, composed of vocalist-keyboardist Tyler Joseph and drummer Josh Dun, has become a mainstream sensation behind their 2013 record, "Vessel." Since that album's 2013 release, the band has become well-known for their tremendous live shows. Complete with fantastic lighting, great music and plenty of crowd involvement, the pair has created a concert-going experience that fans are unlikely to forget.
After the opening band played its set, the lights dimmed and fog began to ooze in from one side of the stage. Donning burglar-like black outfits complete with ski masks, Joseph and Dun arrived on stage to a roar of applause and screams from ecstatic young folk. The band opened with the hit "Guns for Hands" and played in near darkness while the crowd wasted no time in joining with Joseph to sing the opening verse.
I was initially surprised at just how many tweens came all the way out to Upper Darby to see the show. When I first started listening to Twenty One Pilots more than a year ago, I wouldn't have pegged their music to suit that demographic. And it's really off-putting to hear hundreds of teenage girls sing "'Cause Fridays will always be better than Sundays / 'Cause Sundays are my suicide days" perfectly in time with a masked man, but hey, whatever works! Lyrics like that from "Migraine" and others from the album "Vessel" seem at once deeply personal to Joseph but at the same time easily digestible by young pop fans. Similar to the way Passion Pit's Michael Angelakos ensconces his melancholy lyrics in upbeat synth-pop sounds, Joseph raps and sings about some darker subject matter in a way that young pop fans just can't help but sing along.
After "Ode to Sleep" and "Screen" drove the crowd into a frenzy, the guys launched into a series of covers that included DJ Khalid's "All I Do is Win," Ace Hood's "Bugatti," and "Drunk in Love" by Beyonce. The crowd loved the covers and the band's take on each was interesting to hear. Then Joseph segued into a set of older songs off the group's earlier albums "Twenty One Pilots" and "Regional at Best." "Addict With a Pen" and "Kitchen Sink" really stood out.
The energy Joseph and Dun created throughout the show was simply unreal. Dun has a very physical drumming style complete with jumping off his throne to hit the crash cymbal during almost every song. Joseph ran and bounded around the stage with an almost feral grace. Before you could blink, he would hop on top of his piano only to jump off a moment later as the beat dropped. The two combined to create a crazy atmosphere that was only amplified by the intimate size of the venue. One especially neat stunt was during the encore: in the middle of the big breakdown of "Car Radio," Joseph left the stage discreetly and then suddenly appeared on the balcony above the pit to finish the song; it was nuts.
Crowd surfing of all kinds has become a staple of Twenty One Pilots concerts and they pulled out all the tricks. Joseph stood on fans' hands as he sung the opening verse to the awesome "Holding Onto You." Dun played on a miniature drum set that was on a pallet being held up by fans. Finally during the closer, "Trees," each was held up as they played a drum duet on bass drums held up by the fans. Confetti shot through the air as I tried to figure out how all those teenagers were holding up them up like that. I think they summoned reserves of strength like the one that comes on when a mother tries to save her trapped child from a burning car. Regardless, it was quite a sight to see Dun and Joseph playing in the middle of the crowd as hundreds of cell phones were raised high in the air to document it.
Seeing Twenty One Pilots live is an unbelievable experience. I've been to a lot of concerts and these days a lot of bands seem to be phoning in their live shows. They simply go through the motions on stage, barely interact with the crowd, play a short encore and then hit the road. Not so with the duo of Joseph and Dun. They ensured that there would never be a dull moment, instead creating excitement and surprises throughout the night. Heck, they even played a great cover of Lana Del Rey's "Summertime Sadness" at the end of their set. It is no wonder that the band has been selling out shows nationwide, including both at the Tower. And it's no surprise that people waited hours outside just to get close to the stage or spent $35 on a monogrammed band ski mask. They knew what to expect and the band delivered. The often-masked men easily stole the show.