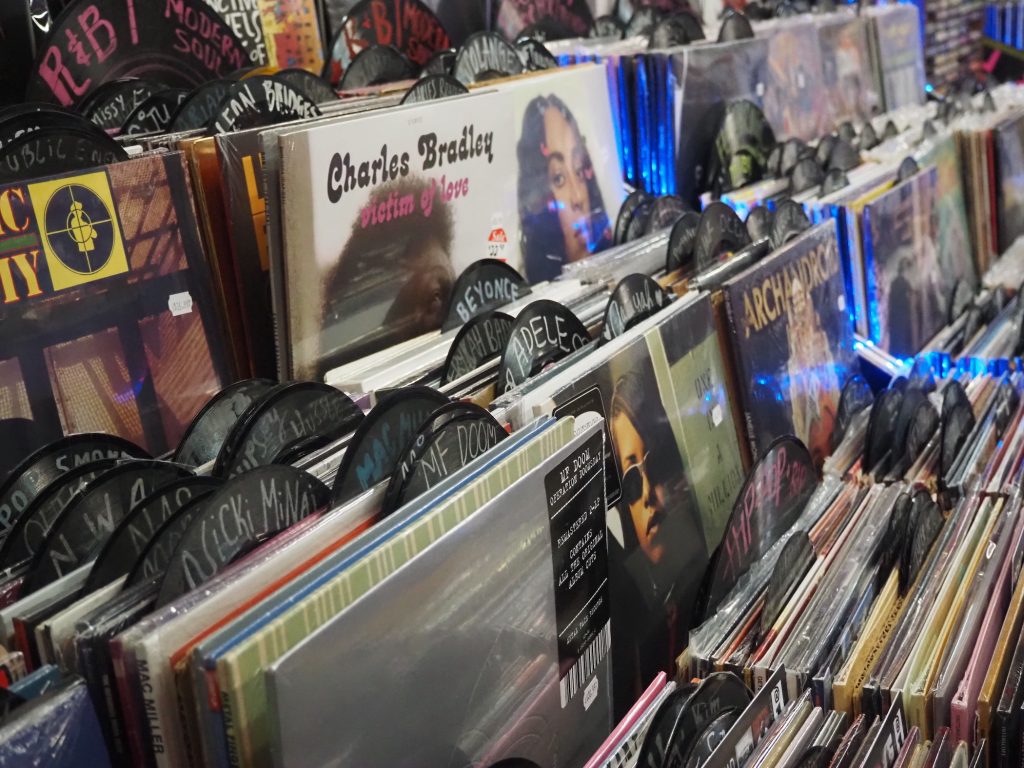 For our first publication in the new year of 2023, we would like to highlight the musical opinions of our Triangle staff. 
2022 gave us massive releases from some of the industry's juggernauts such as Taylor Swift, Kendrick Lamar and Beyoncé, while also certifying all-stars such as Bad Bunny and Harry Styles into superstardom. Talented cusp artists like Steve Lacy and SZA were launched into the mainstream through anticipated albums and enormous singles, while rising acts such as beabadoobee, Noah Kahan and Lizzy McAlpine continued to grow. 
In order to qualify for this list, an album or song must've been originally released in 2022 in an official style. Deluxe or reissued albums do not qualify, however new songs from them do. Each list is ranked with #1 being the listener's favorite entry. Only one entry per artist is allowed per each list. 
Top Albums of 2022
Atticus Deeny – Co-Chief Entertainment Editor
3. "Beware of the Monkey" – MIKE
2. "Dragon New Warm Mountain I Believe In You" – Big Thief
1. "MK 3.5: Die Cuts | City Planning" – Mount Kimbie
Sophia Mattia – Co-Chief Entertainment Editor
2. "Everything I Know About Love" – Laufey
1. "five seconds flat" – Lizzy McAlpine
Ibrahim Kamara – Chief Visual Editor
5. "Step on Step" – Charles Stepney
3. "NO THANK YOU" – Little Simz
1. "Beware of the Monkey" – MIKE
Shreya Srinivasan – Co-Chief Opinion Editor 
3. "Harry's House" – Harry Styles
2. "Stick Season" – Noah Kahan
Kiara Santos – Co-Chief Editor
5. "Beware of the Monkey" – MIKE 
4. "Un Verano Sin Ti" – Bad Bunny
Ioana Racu – Co-Chief Editor
3. "LIFE IN HELL" – Lancey Foux
2. "SOS" – SZA
Lena Fine – Comics Writer
3. "SOS" – SZA
2. "God Save The Animals" – Alex G
Julia Conley – Arts & Entertainment Writer
2. "Gemini Rights" – Steve Lacy
Becca Newman – Social Media Manager
5. "Harry's House" – Harry Styles
4. "BRIGHTSIDE" – The Lumineers 
3. "five seconds flat" – Lizzy McAlpine
Max Wix – Production Manager
3. "Entergalactic" – Kid Cudi (when paired with the movie)
2. "Her Loss" – Drake, 21 Savage
Luke Matheson – IT Director
5. "Mr. Morale & The Big Steppers" – Kendrick Lamar
4. "It's Almost Dry" – Pusha T
1. "You Can't Kill Me" – 070 Shake
Top Songs of 2022
Atticus Deeny – Co-Chief Entertainment Editor
5. "Still" – Lil Silva, Sampha & Ghetts
4. "Wake Me Up To Drive" – Big Thief
2. "nuthin i can do is wrng" – MIKE
1. "dvd" – Mount Kimbie, Choker
Sophia Mattia – Co-Chief Entertainment Editor
3. "Nonsense" – Sabrina Carpenter
2. ​​"complex" – Katie Gregson-Macleod
1. "ceilings" – Lizzy McAlpine
Michelle Almeida – Arts & Entertainment Writer
5. "Unholy" – Sam Smith, Kim Petras
3. "Sunroof" – Nicky Youre, dazy, 24kGoldn
1. "Calm Down" – Rema, Selena Gomez
Ibrahim Kamara – Chief Visual Editor
4. "Just Wanna Rock" – Lil Uzi Vert
3. "Heart String Special" – Mejiwahn, Liv.e
2. "yhet" – AYOCHILLMANNN, Valee
1. "Stop Worry!" – MIKE, Sister Nancy
Shreya Srinivasan – Co-Cheif Opinion Editor
3. "Nonsense" – Sabrina Carpenter
2. "Midnight Rain" – Taylor Swift
Becca Newman – Social Media Manager
4. "Bad For Business" – Sabrina Carpenter
3. "Would've, Could've, Should've" – Taylor Swift 
2. "Never Gonna Be Alone" – Jacob Collier, Lizzy McAlpine & John Mayer 
1. "A.M. RADIO" – The Lumineers
Kiara Santos – Co-Chief Editor
4. "Después de la Playa" – Bad Bunny
3. "Do you miss me?" – PinkPantheress
Kejsi Ruka – Co-Chief Editor, News Editor
5. "Tití Me Preguntó" – Bad Bunny
3. "Boy's a liar" – PinkPantheress