Rapper 2 Chainz exploded onto the scene when he released his first solo project, "T.R.U. REALigon" last November. The rapper formerly named Tity Boi underwent a name change in 2011 to make himself more radio and family friendly. The change has resurrected the career of the man who represented half of Playaz Circle, famous for their single "Duffle Bag Boy," which featured Lil Wayne. Since the image makeover, he has signed a solo deal with Def Jam Recordings and has been featured on Nicki Minaj's "Beez in the Trap" and Kanye West's "Mercy." On  Aug. 14, 2 Chainz released his debut album as a solo artist, "Based on a T.R.U. Story."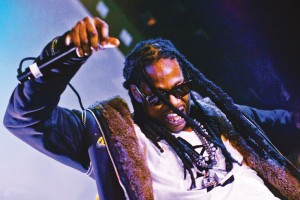 2 Chainz' debut album 'Based on a T.R.U. Story' was released on August 14. Despite recording with Drake and Kanye West on singles 'No Lie' and 'Birthday Song,' the album failed to impress.
While 2 Chainz is not the most lyrically talented rapper, he manages to keep his listeners incredibly entertained with his lavish and frequently outrageous lines. For example, on the album's opening track, "Yuck," featuring Lil Wayne, he says, "Known to act a donkey on the camel toe, then take the camel toe and turn it into casserole." The clever, comical and outrageous raps continue throughout the rest of the album.
The lead single from "Based on a T.R.U. Story" is "No Lie," featuring Drake, which recently went gold. The single has continued to have success on the Billboard charts. 2 Chainz continues to recite outrageous lines, including, "I take your girl and kidnap her, feed her to my mattress." Drake, who sings the hook and also raps a verse, steals the show on this song, just as Kanye West does on the album's second single, "Birthday Song."
"All I want for my birthday is a big booty hoe," 2 Chainz recites on the hook before asking to be buried in the Gucci or Louis Vuitton store if he were to pass away. "She got a big booty, so I call her big booty," he continues in the beginning of his first verse. Kanye delivers the album's best line on his verse when he says, "Last birthday she got you a new sweater, put it on give her a kiss and tell her do better." Unfortunately, these are by far the best two songs on the album.
Other than the two standout singles, the album doesn't have much depth at all. "I'm Different" delivers an eerie beat with an incredibly simple piano melody anchoring the trap record. "Extremely Blessed" sounds more like a song from The-Dream's album than 2 Chainz's (not mad at that), and "Ghetto Dreams," which features Scarface and R&B singer John Legend, provides a collaboration on the only organic, soulful hip-hop sound on the album. Major disappointments include "I Luv Dem Strippers" with Nicki Minaj and "In Town," featuring Mike Posner, whose introduction and chorus make the song painful to listen to.
Sadly, the majority of 2 Chainz's debut album is forgettable, which was disappointing after two very enjoyable singles, "No Lie" and "Birthday Song." "Based on a T.R.U. Story" is full of songs that you would either party to or never play again.