Article by Jess Herbine & Anne Most
Comic book and pop culture enthusiasts assembled at the 2012 Wizard World Philadelphia Comic Con May 30 through June 2 at the Pennsylvania Convention Center.
The convention featured celebrity guests including comic book king Stan Lee, Chris Hemsworth, William Shatner, Patrick Stewart, Paul Wesley, Hayden Panettiere, Bruce Campbell and Jeri Ryan.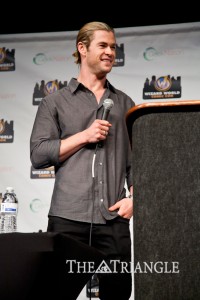 Actor Chris Hemsworth ("The Avengers," "Thor") was one of many celebrity guest stars at the Wizard World Philadelphia Comic Con May 30-June 2 at the Pennsylvania Convention Center. Other guest appearances included comic king Stan Lee, William Shatner and Patrick Stewart.
Comic Con got an early start Thursday night with a fun, costume-and-booze-filled "Superhero Pub Crawl." The mini-marathon took place 5-9 p.m. and tackled an extended schedule of noon to 8 p.m.  Friday as well.
Activity heated up on Friday, initiated by the first lecture: "How to Fail in Comics: Big City Comics." Big City Comics hosted the panel, interjected with clips from the star-studded documentary "How to Fail in Comics," which includes cameos by Stan Lee, Michael Golden and Neal Adams, among others.
The Boondock Saints team, Dean Cain ("Lois & Clark: The New Adventures of Superman"), Travis Langley (author, "Batman and Psychology: A Dark and Stormy Knight") and Anthony Michael Hall ("The Dark Knight") had designated Q-and-A sessions for the fans Friday afternoon. They were joined by "Buffy" and "Angel" veterans James Marsters and Juliet Landau, as well as Sam Trammell, the shapeshifter of supernatural phenomenon "True Blood." For those who attended Comic Con for more than the celebrity sightings and discussions, Magic: The Gathering illustrators Jeff Menges, Winona Nelson and Phil Foglio also spoke of their experiences in the comic industry. And for all those single and ready to mingle — or as the weekend guide joked, "If you're tired of looking for love in Alderaan places" — rounds of Sci-Fi Speed Dating were working a little magic of their own on those post-con blues.
A Q-and-A with Sam Witwer, who plays Aidan on the TV series "Being Human," was a highlight of Friday night. Witwer was one of the most relaxed and entertaining of all celebrity guests, cracking jokes with fans and relaying side-splitting stories of happenings from his guest work on the sets of "Smallville," "Dexter" and "Bones." He even gave a chilling sample of his voice work  as the primary character from the video game "Star Wars: The Force Unleashed."
Friday also included a Star Wars Q-and-A with Jeremy Bulloch (Boba Fett), Peter Mayhew (Chewbacca) and Nick Gillard, lightsaber choreographer.
The main attraction at Philadelphia Comic Con arrived Saturday morning. King of Marvel and industry legend Stan Lee shared in a 45-minute Q-and-A with fans. The creator, writer, editor, producer and publisher of series like "Spider-Man," "The Hulk," "X-Men," "The Fantastic Four," "Iron Man" and "Thor", born in 1922, was assisted onto the stage by Claire Kramer (Glory from "Buffy the Vampire Slayer"), who repeated each question to him for clarification. Lee replied to each question jovially, often poking fun at himself and his popularity while tossing cute, flirtatious remarks at Kramer all the while. Amid the jokes, Lee mentioned that while growing up he was often embarrassed about his choice in career due to the nature of some of the work his family and friends did. He gave sincere evidence of growing out of this opinion, attributing a serious sermon to the extreme significance of arts and entertainment within our culture.
A Q-and-A with Panettiere, best known for her role as Claire Bennet in the hit television series "Heroes," followed Lee's forum. While the actress seemed like she would prefer shopping over science fiction, she admitted that she would love to wear a spandex bodysuit in a spaceship.
One of Saturday's highlights was a Q-and-A with actor Chris Hemsworth, known for portraying Thor in Marvel's "The Avengers" and "Thor." Ladies swooned as the Australian actor answered questions about his start in the movie business with the 2009 film "Star Trek" and his experiences portraying the hammer-wielding demigod. Hemsworth was a good sport as he doled out hugs to a few women in the audience, with one claiming that it was her birthday.
Another headlining Q-and-A was a reunion of the five Star Trek Captains: William Shatner (Captain James T. Kirk), Patrick Stewart (Captain Jean-Luc Picard), Avery Brooks (Captain Benjamin Sisko), Kate Mulgrew (Captain Kathryn Janeway) and Scott Bakula (Captain Jonathan Archer).
Nick Gillard, stunt coordinator and saber master of the Star Wars prequels, held 90-minute master classes in dueling in a roped-off area at the back of the show floor. For a hefty sum of credits, attendees were taught a tricky duel from "Revenge of the Sith" in a special one-on-one setting. The run incorporated all of the basic rules and maneuvers required of a young Jedi or Sith in training.
The night pressed on with a costume contest as Captain Americas, Thors, Jedi, and countless other comic book and science fiction characters competed.
Sunday wrapped up the festivities with Quantum Leap and Spartacus panels, a "Buffy the Vampire Slayer" 20th anniversary Q-and-A, superhero arts and crafts, and a Wizard World children's costume contest.
The Wizard World Comic Con tour will trek on to Chicago Aug. 9-12 and Columbus, Ohio Sept. 28-30. Live long and prosper, science fiction fans.