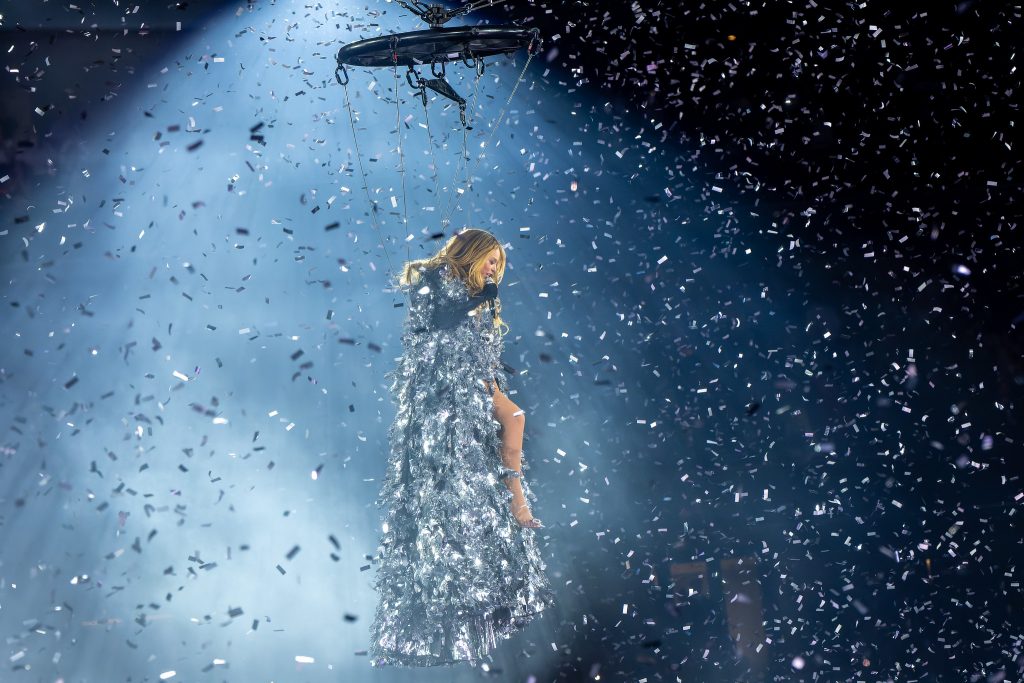 After 56 sold-out stadium shows across 39 cities in Europe and the US, Beyoncé has dropped the curtains on the Renaissance World Tour. Of course, being Beyoncé, the Renaissance World Tour has cemented itself as one the most iconic tours of all time. Attracting over 2.7 million fans, the tour has generated over $579 million worldwide, LiveNation reports. It is also the seventh highest-grossing tour of all time and the highest-grossing tour of all time by any female artist. The tour quickly became a cultural phenomenon, even making history with the five-night run at the Tottenham Hotspur Stadium in North London, attracting over 238,000 fans, making Beyoncé the first artist to do so at the stadium since its opening in 2019.
Each attendee was decked out in their finest silver/chrome outfits, with some recreating some of Beyoncé's own tour looks (YOU are the visual, baby!), and documenting every stop on social media. It quickly became known by fans that each show was not only a place to enjoy good music, but a space where people could show up and show out and be themselves unabashedly. With her ballroom segment during "Pure/Honey" and fans rallying together for the mute challenge, the tour celebrated the freedom of expression and creativity in every possible way. Whether you watched from Club Renaissance, the nosebleeds or on TikTok, the Renaissance World Tour will forever be ingrained in our memories. Here are just a few highlights of the tour:
Beyoncé's unrivaled vocals
The three-hour-long show not only celebrated the album Renaissance but also served as a love letter to longtime fans of Beyoncé. She opens each show with some of her most beautiful, powerful ballads across her nearly three-decade-long career, with songs like "Dangerously in Love," "Flaws and All" and a cover of "I'm Going Down" by Mary J Blige.
The setlist also showcased some of her other hits interspersed throughout, as it mixed "Sweet Dreams" with "Alien Superstar" and "Freakum Dress" with "Before I Let Go," teasing fans but overall creating a way to visit the past while looking towards the future. Let's not forget her incredibly heated performance of "Heated" with the sound of fans clacking in the back! She not only proves that she can put on a show but delivers vocals that most people can only dream of reaching after decades of performing. It has already been established that Beyoncé is a powerhouse but this tour has proven that she is — and continues to be — one of the greatest vocalists of our time.
The fashion
If there is one thing the Renaissance World Tour will be remembered for, it would be the outfits featured on the tour. Across the 56 shows, Beyoncé has worn over 154 looks, from fashion giants to up-and-coming designers. There were even seven custom looks from Loewe. Each stop honored local designers — Iris Van Herpen in Amsterdam, Jacquemus in Marseille, Robert Wun in London, etc. In celebration of Juneteenth, she wore looks exclusively from Black designers such as Olivier Rousteing for Balmain, Maximilian Davis for Ferragamo and LaQuan Smith, amongst others.
She also features accessories and jewelry, including her in-ear monitors, custom-made by Tiffany and Co., and outfits from her own brand, Ivy Park. Fan favorites include the iconic metal bee custom Mugler look, the Roberto Cavalli fiery cowboy look and the custom Emilio Pucci mixed patterns look. The entire tour gave off a campy, futuristic vibe while staying true to Beyoncé's reputation as an artist with embellished gowns and extravagant capes. According to Women's Wear Daily, the RWT generated about $187 million in "media impact value" for the designers she collaborated with. It's safe to say the fashion world needs Beyoncé.
Blue Ivy Carter
Beyoncé debuted a very special guest on the RWT: her first-born child, Blue Ivy Carter. Blue Ivy first appeared at the Paris show back in May, surprising fans everywhere. She became a featured dancer during the "My Power/Black Parade" section of the show. Just like her mother, rising from underneath the stage, Blue Ivy makes her grand entrance on the lines, "This my bloodline / On the frontline!" while the crowds erupt in a frenzy. Her dance quickly became a trend on TikTok, with her becoming an inspiration to young Black girls who recreated her performance. It has been a joy to watch this young girl grow in confidence each show, hitting each step with power and grace at the same time.
Look around everybody on MUTE!
In true Beyoncé fashion, a show is not complete without surprises here and there to keep fans on their toes. Dubbed the "mute challenge," fans at each stop — and on social media — competed to see which stadium could keep quiet, or go mute, during the song "Energy." As Beyoncé sings the line, "Look around everybody on mute!" she pauses for about eight counts before continuing. Many cities have claimed they won, or that they were the quietest, meanwhile there are loud whoops and cheers in the back. The winner? Atlanta Night #1. Beyoncé said it herself.
The Big 3
The first stop on the tour, in Stockholm, Sweden, featured a full setlist, including all the songs from the Renaissance album and of course, other hits from Beyoncé's previous albums. However, after the first night, three songs from the setlist – Thique, All Up In Your Mind (justice for this song!) and Drunk in Love – had been mysteriously removed. Granted, there could have been various behind-the-scenes reasons unbeknownst to fans and that's okay. But that did not stop them from petitioning for their return with "Justice for the Big 3" signs. They were not heard until Atlanta Night 3, when Beyoncé surprised fans with their return, and of course, in style. The performance of the Big 3 consisted of flashing ultraviolet lights, a mix of Britney Spears's "Toxic," disco balls and a recreation of Beyoncé's viral Dubai performance of "Drunk in Love." The Big 3 were also featured during the Inglewood shows, including Beyonce's birthday show, the hometown Houston shows (with a surprise performance with Megan Thee Stallion), the New Orleans show and the final show in Kansas City.
The social and cultural impact
The RWT definitely left its mark on the world. As stated earlier, the tour produced over $187 million in media impact value for the fashion brands worn by Beyoncé. For example, Alexander McQueen won $7.7 million and $5.6 million for Balmain in impact value. The tour also increased the demand for silver, disco-themed clothing, with consumer interest rising by 700%. Etsy also reported that there was a surge in demand for silver items, with a 25% increase.
Beyoncé not only changed the fashion industry this summer but also boosted the economy in each city she stopped at. QuestionPro estimated that the tour could generate around $4.5 billion in economic activity, similar to that of the 2008 Olympics held in Beijing. The tour's stop in Atlanta created an additional $10 million in revenue for local businesses. Beyoncé didn't stop there. Like her previous tours, she continues to support the communities at every stop on her tour. Throughout the RWT, Beyoncé's foundation BeyGOOD boosted 1,000 small business owners in various cities with grant opportunities and resources to support entrepreneurship. BeyGOOD also earmarked $1 million in scholarships to ten urban centers.
Renaissance: A Film by Beyoncé
On Oct.1, as the tour concluded at the Arrowhead Stadium in Kansas City, Beyoncé unveiled the trailer for "Renaissance: A Film by Beyoncé," the concert documentary. On Instagram, she captioned the post with the lyrics, "Be careful what you ask for / 'cause I just might comply," from her song "All Up In Your Mind," seemingly teasing fans who have been desperately waiting for her visuals to be released. In an exclusive article with Variety, Beyoncé closed a deal with AMC theaters and later other exhibition chains for the film's release on Dec. 1. Variety reports that insiders say the film incorporates highlights from the full run of the tour, as well as "a docu-style account" of the behind-the-scenes process of recording the album and conceiving the show. Also featured in the film will be the much-anticipated visuals that were teased during the album's release. The presale for the documentary's release has already begun, so grab your seats now!!
Whether it is due to innovative performance technology or Beyoncé's phenomenal stage presence, it is safe to say that the Renaissance World Tour has been a smashing blockbuster in every way. Beyoncé successfully recreates the ballroom scene — in which the album and show get their inspiration — while pushing the envelope of what live entertainment could be. In the trailer for her concert film, Beyoncé mentions that "the goal for this tour was to create a place where everyone is free, and no one is judged," and she does just that.
The tour has received rave reviews from fans and critics alike. In a five-star review for The Guardian, writer Malcolm Jack proclaimed the tour "is the greatest pop show on earth," pushing "21st-century live entertainment another lavish leap forward." In a review for the Evening Standard, Emma Loffhagen wrote that the tour "pushes the boundaries of 21st-century performance technology," with her use of a color-changing UV-sensitive gown, robotic arms and a flying disco horse. Beyoncé continues to prove that she is the reigning Queen B of the music industry, fearlessly challenging what it means to be an artist and performer. If this is all part of Act I, the world surely cannot wait for what she has in store next.