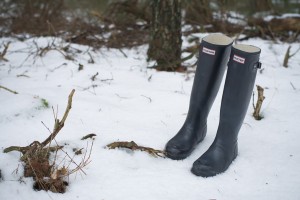 Thanks to the dropping temperatures and the snow in the upcoming weather forecast, it's finally beginning to feel like wintertime. The best way to enjoy this brutal but long-awaited weather is to be prepared by dressing appropriately. Be prepared to bundle up in many layers and to wrap yourself in the thickest scarf you own. However you chose to attack the weather, your shoes may be the most important piece to consider.
Unless you are a professional ice skater, looking graceful while sliding across ice is basically impossible. Designers have finally caught on to the advantages of lug sole boots and have blessed us all with pairs that do not look like you can only wear them to do utility work. The style of sole can now be seen at the bottom of everything from ankle boots, like the Nine West Ursula boots priced at $99, to thigh highs, like the Sam Edelman Remi pair for $133, both on sale at Nordstrom. They also come in extremely exaggerated styles and also toned down styles that are more concealed. Either style can assure that you won't have to walk one mile per hour to avoid slipping on ice.
As much as you might hate to admit it, UGG Boots get the job done. The trick to not letting a pair of UGG boots ruin your outfit is to stay away from the classic styles the retailer offers. Take a second look at the styles that are not seen as often. For example, the Thomsen boot looks nothing like the structureless classic UGG boots you are used to seeing, and are waterproof as well. Another option is the Adirondack, as it will undoubtedly keep you safe and warm if there ever happens to be a more than just a couple inches of snow. They are both very pricey at above $200, but you're sure to get your money's worth if you decide to purchase a pair.
If you don't already own at least one pair of rain boots, now is a great time to make that purchase. When the snow begins to melt, you will definitely want a trusted pair to keep the moisture out and to avoid ruining your other shoes. Hunter boots are a classic that you can always rely on. An alternative can be J. Crew's Chelsea rain boots, priced at $68 originally, but currently on sale for 30 percent off.
The bottom line is that the boots most appropriate for the bad weather usually aren't the most attractive or the cheapest. However, the investment is worth keeping your feet warm in Philadelphia's harshest months.